National Assembly of the Republic of Serbia / Activities / Activity details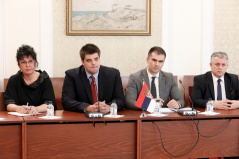 21 March 2019 The National Assembly delegation in visit to the National Assembly of the Republic of Bulgaria
Friday, 22 March 2019
European Integration Committee Delegation in Bilateral Visit to Bulgarian National Assembly
A delegation of the European Integration Committee, headed by MP Zarko Micin and comprising MPs Zvonimir Djokic and Aleksandar Seselj, paid a bilateral visit to the Republic of Bulgaria at the invitation of the Chairman of the Bulgarian Parliamentary Committee on European Affairs and Oversight of European Funds Kristian Vigenin.
---
In the course of the visit the delegation met with the Vice-President of the Republic of Bulgaria, Vice-President of the National Assembly of the Republic of Bulgaria, Bulgaria-Serbia Parliamentary Friendship Group, the members of the Bulgarian Parliamentary Committee and the Deputy Minister of Foreign Affairs.
The members of the two parliaments stressed that Bulgaria and Serbia are celebrating 140 years of diplomatic relations this year. They highlighted the importance of regional and cross-border cooperation and improvement of economic cooperation, especially in the areas of infrastructure and energy.
The Bulgarian officials were interested in the status of the Bulgarian national minority in Serbia and the head of the delegation, Zarko Micin, said that Serbia's law on the protection of national minorities is the best in Europe and it is implemented very consistently. Last year, 23 textbooks in Bulgarian were printed in five primary schools in Serbia, 1016 students take Bulgarian language and national culture classes and the Government had resolved the issue of funding media in Bulgarian last year by a Conclusion granting consent that media publishing information in Bulgarian in the Republic of Serbia be given a one-time lump sum assistance in the amount of 45 million RSD. The Bulgarian national minority is a bridge of cooperation between Bulgaria and Serbia. He also thanked Bulgaria for its support of Serbia's path to the EU.
Zvonimir Djokic informed the Bulgarian officials about the 100% customs tax imposed by so-called Kosovo on goods from central Serbia which is an uncivilizational measure hurting mostly the Serbian population in Kosovo-Metohija and obstructing the Belgrade-Pristina dialogue. He stressed that Serbia is committed to keeping peace and stability in the region.
Aleksandar Seselj said that Serbia and Bulgaria share a common Slavic origin, religion, similar culture and history and the relationship between Serbia and Bulgaria should be expanded in the future.


---
---
wednesday, 8 december
11.00 - sitting of the Committee on the Economy, Regional Development, Trade, Tourism and Energy (National Assembly House, 13 Nikola Pasic Square, hall 2)