National Assembly of the Republic of Serbia / Activities / Activity details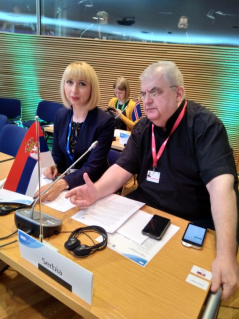 22 July 2019 The delegation of the European Integration Committee at the meeting of the chairpersons of the Conference of Parliamentary Committees for Union Affairs of Parliaments of the European Union (COSAC)
Monday, 22 July 2019
European Integration Committee Delegation at COSAC Meeting
A delegation of the European Integration Committee is taking part in the meeting of the chairpersons of the Conference of Parliamentary Committees for Union Affairs of Parliaments of the European Union (COSAC), held under the auspices of the parliamentary dimension of the Finnish Presidency of the Council of the European Union, on 21-22 July 2019 in Helsinki.
---
The delegation comprises Committee Chairman Nenad Canak and Committee member Vesna Markovic.
The meeting is attended by the members of the European affairs/integration committees of the national parliaments of EU member states and candidate countries, member countries of the European Economic Area and representatives of the European institutions.
The focus of the meeting are the priorities of the coming Finnish Presidency of the Council of the European Union and the budget allocations for European policies in the Multiannual Financial Framework.
In his address, Nenad Canak said he was pleased that the continuation of the negotiations with the candidate countries is one of the priorities, which encourages us and gives us hope that we remain in the focus of EU policies despite the many challenges the Union is faced with.
He said that Serbia is taking part in resolving the challenges the EU is faced with such as the economic cad migrant crisis, in addition to investing efforts into its own reforms and harmonization with EU standards.
Serbia has so far opened 17 of the 35 negotiation chapters and expects that the process would pick up speed in view of the political support and the administration's technical capacities.
Nenad Canak expects that the new EU administration, as mediator in the Belgrade-Pristina dialogue, would work toward revoking Pristina's decision to impose customs taxes on Serbian products. Condemnation and abolishment of this measure would send a clear message that unilateral measures are unacceptable and ensure the dialogue continues toward a mutually acceptable solution.
He emphasized how vital the continued support and promotion of the Western Balkans' EU prospects by the European Commission, European Parliament and the EU member states is for Serbia and the countries of the Western Balkans.
The chairpersons of the European affairs committees of Finland, Croatia, Romania, the UK and other EU member states urged to speed up the Western Balkans' EU integration process.


---
---
monday, 16 may
No announcements for selected date