National Assembly of the Republic of Serbia / Activities / Activity details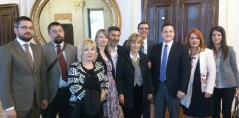 27 May 2015 The delegation of the European Integration Committee in visit to the Croatian Parliament
Thursday, 28 May 2015
European Integration Committee Delegation Visits Croatian Sabor
A delegation of the European Integration Committee is in bilateral visit to the Croatian Parliament (Sabor), 27-28 May, at the invitation of the Chairman of the European Affairs Committee Daniel Mondekar.
---
On the first day, the delegation met with Croatian Minister of Foreign and European Affairs Vesna Pusic and had a meeting with the Croatian Parliament's European Affairs Committee.

The meetings focused on Croatia's support of Serbia's European integration and the two committees agreed to continue cooperation.

On the second day, the delegation of the European Integration Committee met with former Croatian Prime Minister, now independent MP, Jadranka Kosor, the Agriculture Committee, Croatia-Serbia parliamentary friendship group, Foreign Policy Committee, Judiciary Committee and representatives of the Ministry of Regional Development and EU Funds.

The members of the European Integration Committee delegation asked about the Croatian experiences in the fields covered by negotiations chapters 11 and 23 – agriculture and judiciary. They were also grateful for the Declaration on the Promotion of European Values passed by the Croatian Parliament in 2011 which states that "bilateral issues should not obstruct the accession process of candidate countries".

They concluded that the negotiations process is a long one, includes the acceptance of and harmonisation with European legislation, and deadlines and quotas are the only things negotiable. The civil servants included in the negotiations process, as well as the citizens, need to be constantly educated. Croatia could be a good example considering that it had only recently become an EU member and there are no language barriers. Croatia is ready to offer political and technical support to Serbia.

European Integration Committee Chairman Aleksandar Senic thanked the Croatian officials for the welcome and readiness to exchange useful experiences and to further cooperation between the neighbouring countries, especially in the field of economy and EU integration.

They also discussed the status of the two minorities (Serbian in Croatia and Croatian in Serbia) and agreed on a return visit of the Croatian Parliament's European Affairs Committee to the National Assembly in autumn.

The delegation headed by Committee Chairman Aleksandar Senic, comprises Committee members Dusica Stojkovic, Prof. Dr Ljubisa Stojmirovic, Biljana Pantic Pilja, Branko Ruzic, Dr Ivan Bauer, Bojan Kostres, Katarina Susnjar and Mirjana Andric.

The visit to the Croatian Parliament was organised with the support of the United Nations Development Programme (UNDP) and Swiss Agency for Development and Cooperation (SDC), within project Strengthening the Oversight Role and Transparency of the National Assembly of the Republic of Serbia.


---
---
thursday, 1 december
9.45 - press conference of MP Usame Zukorlic (National Assembly House, 13 Nikola Pasic Square, Central Hall)

10.30 - the National Assembly Speaker meets with a delegation of the Turkish Grand National Assembly Committee on Foreign Affairs (National Assembly House, 13 Nikola Pasic Square, hall 1)

10.30 - press conference of the GREEN – LEFT CLUB, DON'T LET BELGRADE D(R)OWN, WE HAVE TO Parliamentary Group (National Assembly House, 13 Nikola Pasic Square, Central Hall)

11.10 - the members of the Foreign Affairs Committee meet with the delegation of the Turkish Grand National Assembly Committee on Foreign Affairs (National Assembly House, 13 Nikola Pasic Square, hall 2)

12.00 - sitting of the Culture and Information Committee (National Assembly House, 13 Nikola Pasic Square, hall 4)

12.00 - press conference of MPs Slavica Radovanovic, Sanda Raskovic Ivic, Tatjana Manojlovic, Radmila Vasic and Jelena Kalajdzic (National Assembly House, 13 Nikola Pasic Square, Central Hall)

13.00 - sitting of the Committee on Administrative, Budgetary, Mandate and Immunity Issues (National Assembly House, 13 Nikola Pasic Square, hall 3)

13.00 - the National Assembly Speaker meets with the Swedish Ambassador to Serbia (National Assembly House, 13 Nikola Pasic Square, hall 1)

14.00 - sitting of the Defence and Internal Affairs Committee (National Assembly House, 13 Nikola Pasic Square, hall 3)

18.30 - representatives of opposition parliamentary groups meet with the EU Commissioner for Neighbourhood and Enlargement (National Assembly House, 13 Nikola Pasic Square, hall 2)