National Assembly of the Republic of Serbia / Activities / Activity details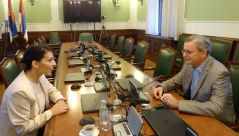 26 September 2016 The Chairperson of the European Integration Committee and the Austrian Ambassador to Serbia
Monday, 26 September 2016
European Integration Committee Chairperson Meets with Ukrainian Ambassador in Serbia
The Chairperson of the European Integration Committee Marinika Tepic met today with the Ukrainian Ambassador to Serbia, H.E. Oleksandr Aleksandrovych, to discuss the European Integration Committee members' visit to Ukraine.
---
Oleksandr Aleksandrovych suggested that the Committee delegation should meet with Ukrainian high dignitaries, among others, the Ukrainian Parliament Speaker, Vice Prime Minister, head of the European Affairs Department, relevant ministers and NGOs. The Ukrainian Ambassador briefed the Committee Chairperson on Ukraine's stance on European integration and the growing numbers of people in favour of Ukraine joining the European Union and NATO.

Marinika Tepic said she was especially interested in meeting with the women members of the Ukrainian Verkhovna Rada (parliament) and added that she was pleased that the Committee's visit to Ukraine will be realised very soon, in November of this year.

Tepic explained that the average citizen does not know much about the assistance the European Union provides to the Republic of Serbia and quite often politicians portray the EU's achievements as their own which results in the citizens getting the wrong impression of the European Union and the benefits the Republic of Serbia could reap as its member. She opined that it is good that the 11th legislature of the National Assembly is made up of parliamentary groups that support Serbia's EU accession process which she views as an opportunity to bring the work of the European community closer to the citizens.


---
---
thursday, 30 june
10.00 - the National Assembly Speaker delivers keynote address at the CSR Serbia 2022 conference (National Assembly House, 13 Nikola Pasic Square, Small Hall)

11.00 - the National Assembly Speaker meets with the EU Special Representative for the Belgrade-Pristina Dialogue (National Assembly House, 13 Nikola Pasic Square, hall 1)

15.00 - sitting of the Foreign Affairs Committee (National Assembly House, 13 Nikola Pasic Square, hall 2)

20.00 - the National Assembly Speaker speaks at the closing ceremony of the international competition Mathematical Grammar School Cup (National Assembly House, 13 Nikola Pasic Square, Small Hall)