National Assembly of the Republic of Serbia / Activities / Activity details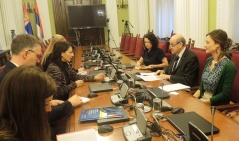 21 November 2016 Marinika Tepic and the Portuguese Ambassador to Serbia H.E. Augusto Saraiva Peixoto
Monday, 21 November 2016
European Integration Committee Chairperson Meets with Portuguese Ambassador to Serbia
The Chairperson of the European Integration Committee Marinika Tepic met today with the Portuguese Ambassador to Serbia H.E. Augusto Saraiva Peixoto to brief him on the Committee's work and activities.
---
She said that the Committee's work has been intensified since June, after the opening of chapters 23 and 24, and added that the Parliament and the Committee's work in the current legislature has changed quite significantly considering that opposition parties which do not support Serbia's EU accession have entered parliament. She believes it good to open the National Assembly up to different views and that this is an opportunity to foster dialogue. The Committee Chairperson opined that after Brexit the European Union itself needs to reach out to its citizens. She added that the Republic of Serbia has a lot to learn from the experiences of the EU member states, as well as the colleagues from the European Parliament, thinking primarily of dialogue which is, according to her, a test Serbia is yet to pass, referring to the last sitting of the European Integration Committee which was adjourned.

H.E. Augusto Saraiva Peixoto stressed that Portugal supports Serbia's European integration process, adding that Portugal's experience of the path to EU accession could be beneficial to Serbia because Portugal's European integration process took more than seven years and was conditioned by the recognition of the independence of the Portuguese colonies. He said that the Republic of Serbia, with its tradition, culture and history, can enrich the European Union and that Serbia belongs in the family of European countries.

The officials also discussed the course of EU talks and agreed that Chapter 35 is especially important, leading to the fact that each negotiation chapter opened will in addition to the technical also have a political connotation, which was not the case with other EU states. The opening of the negotiation chapters is a recognition of all the governments since 2000.

They also spoke about future cooperation, namely to organise a meeting with the members of the European Integration Committee during the official visit of the Portuguese Secretary of State for European Affairs on 7 December, and to have a delegation of the European Integration Committee visit Portugal, considering that 2017 marks 130 years of diplomatic relations between Serbia and Portugal.


---
---
friday, 2 december
8.15 - the National Assembly Speaker meets with the EU Commissioner for Neighbourhood and Enlargement (National Assembly House, 13 Nikola Pasic Square, hall 1)

11.00 - sitting of the Health and Family Committee (National Assembly House, 13 Nikola Pasic Square, hall 3)

11.00 - sitting of the Committee on Agriculture, Forestry and Water Management (National Assembly House, 13 Nikola Pasic Square, hall 4)

12.00 - sitting of the Committee on the Economy, Regional Development, Trade, Tourism and Energy (National Assembly House, 13 Nikola Pasic Square, hall 2)

13.00 - press conference of MP Prof. Dr Janko Veselinovic (National Assembly House, 13 Nikola Pasic Square, Central Hall)

13.00 - the National Assembly Speaker meets with the Russian Ambassador to Serbia (National Assembly House, 13 Nikola Pasic Square, hall 1)

16.00 - sitting of the Committee on Constitutional and Legislative Issues (National Assembly House, 13 Nikola Pasic Square, hall 3)

16.00 - sitting of the European Integration Committee (National Assembly House, 13 Nikola Pasic Square, hall 2)