National Assembly of the Republic of Serbia / Activities / Activity details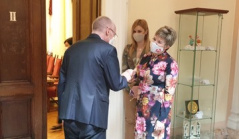 31 March 2021 The Chairperson of the European Integration Committee meets with the Germany Ambassador to Serbia
Wednesday, 31 March 2021
European Integration Committee Chairperson Meets with German Ambassador to Serbia
The Chairperson of the European Integration Committee Elvira Kovacs met today at the National Assembly House with the German Ambassador to Serbia, H.E. Thomas Schieb to discuss the results achieved by Serbia in the European Union accession process.
---
First off, Elvira Kovacs thanked the Ambassador for meeting with her at a time when the whole world is fighting against the corona pandemic, adding how pleased she was to have the opportunity to exchange opinions on the Republic of Serbia's further European integration process.
Schieb said that, speaking of Serbia's European integration, Germany aims to provide all the necessary support and assistance. He also pointed out that EU enlargement remains a priority for Germany, regardless of the results of the country's parliamentary elections scheduled for September. He also stated that reforms in the area of rule of law are key for Serbia's European integration, and that Germany expects progress in these areas and the opening of new clusters i.e. negotiation chapters.
Kovacs expressed regret that no new negotiation chapters were opened during the previous year, but added that Serbia is aware that the Union is also facing some challenges. She added that the European Commission's 2020 Progress Report on the Republic of Serbia was presented to the European Integration Committee in December last year and the National Assembly adopted a proposal on the presented Report, submitted by the MPs, members of the European Integration Committee. She added that the National Assembly no longer passes laws by urgent procedure, which was one of the suggestions in the European Commission's Report, and also organises public hearings on draft laws and listens carefully and accepts the suggestions of the NGOs that take part in them. She also said that the National Assembly is currently in regular session and has Collegium meetings every Tuesday where the heads of the parliamentary groups and the Speaker and deputy speakers discuss the Assembly's activities and MOD.
Thomas Schieb took the opportunity to praise Serbia for the positive vaccination campaign, stressing that it is praiseworthy that the diplomats in Serbia, him included, had the opportunity to be vaccinated, which was not the case in other countries. The officials also discussed the meeting of the Parliamentary Friendship Group with Germany and the German Ambassador and the topics important for both countries at the bilateral level.
The meeting also touched on the constitutional amendments and early parliamentary elections in Serbia in the spring of next year, the Code of Conduct for MPs, inter-party dialogue, communication on the European Union and the European Parliament Resolution on Serbia.
---
---
monday, 27 june
No announcements for selected date