National Assembly of the Republic of Serbia / Activities / Activity details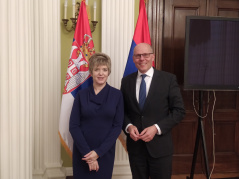 9 March 2023 European Integration Committee Chairperson Elvira Kovacs and Bundestag member Peter Bayer
Thursday, 9 March 2023
European Integration Committee Chairperson Meets with Bundestag Member
European Integration Committee Chairperson Elvira Kovacs met today with Bundestag member Peter Bayer to discuss the current political situation and Serbia's European integration.
---
Elvira Kovacs stressed that the significant political pluralism in the National Assembly is the result of the inter-party dialogue conducted with EP mediation. She informed the guest about the National Assembly's work and legislative activities, as well as with the work of the European Integration Committee and its role in harmonising the national legislation with the European.
Speaking about Serbia's European integration, Kovacs said that the majority of MPs support Serbia's membership in the EU, but that it is important to present all the benefits of European integration to the citizens as concretely as possible, in which the European Integration Committee itself can play a significant role, by holding sessions outside of the National Assembly seat, in local areas, as well as through the organisation of public hearings, where various important aspects of Serbia's European integration would be presented.
Peter Bayer agreed about the importance of promoting European values and integration. He pointed out that the normalisation of relations between Belgrade and Pristina is closely related to European integration prospects, expressing optimism that the negotiations between Belgrade and Pristina would yield more concrete results.
In the course of the meeting, Kovacs and Bayer highlighted the importance of maintaining close relations between parliamentarians, through contacts between the two parliaments' friendship groups and working bodies.
---
---
wednesday, 6 december
No announcements for selected date