National Assembly of the Republic of Serbia / Activities / Activity details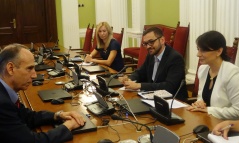 22 July 2016 European Integration Committee Chairperson Marinika Tepic in meeting with Cypriot Ambassador in Belgrade Constantinos Eliades
Friday, 22 July 2016
European Integration Committee Chairperson Marinika Tepic Meets with Cypriot Ambassador in Belgrade
The Chairperson of the European Integration Committee Marinika Tepic met today at the National Assembly House with the Cypriot Ambassador in Belgrade Constantinos Eliades.
---
Marinika Tepic highlighted the significant economic cooperation which is the focus of the two countries' cooperation, adding she was particularly pleased by the Memorandum of Understanding signed between Cyprus and Serbia in 2013 at the intergovernmental level. She also said that the two countries should intensify their cooperation and improve cooperation at the interparliamentary level.

"I would especially like to stress the positive circumstances for the Republic of Serbia concerning the opening of negotiation chapters 23 and 24. We would like to thank Cyprus, as a member state, for its strong support of Serbia's Euro-integration process, and particularly for its opposition to new requirements for Serbia's progress to the EU", said Tepic.

The Committee Chairperson emphasized the Committee's role in the negotiations process stating that the National Assembly entered the negotiations process fully ready and additionally strengthened its role by adopting the Resolution on the Role of the National Assembly and Principles in the Negotiations on the Accession of the Republic of Serbia to the European Union.

Cypriot Ambassador Constantinos Eliades congratulated Marinika Tepic on her election for Committee Chairperson, commended the key role the Committee plays in the EU accession process and offered all necessary technical assistance his country can lend Serbia on its European path.

He said that the bilateral relations between the two countries are excellent on all levels and restated that Cypress respects Serbia's integrity and territorial sovereignty and will not be changing its stance on Kosovo-Metohija.

Marinika Tepic said that communication between the MPs and citizens is very important for raising awareness on the benefits of EU membership.

"I deeply believe that our parliament is the right political arena where we will have the opportunity to assure all Eurosceptics that the path to the European Union is the right path that will bring progress to all the citizens of the Republic of Serbia", said Tepic.


---
---
wednesday, 5 october
10.00 - the Chairman of the Foreign Affairs Committee meets with the Belgian Ambassador to Serbia (National Assembly House, 13 Nikola Pasic Square, hall 2)

11.00 - the Chairman of the Foreign Affairs Committee meets with the US Ambassador to Serbia (National Assembly House, 13 Nikola Pasic Square, hall 2)

11.00 - the National Assembly Speaker meets with the Mexican Ambassador to Serbia (National Assembly House, 13 Nikola Pasic Square, hall 1)

12.00 - press conference of MPs Zoran Lutovac and Dragana Rakic (National Assembly House, 13 Nikola Pasic Square, Central Hall)

12.30 - press conference of the SERBIAN MOVEMENT DVERI – PATRIOTIC BLOC Parliamentary Group (National Assembly House, 13 Nikola Pasic Square, Central Hall)

12.45 - the National Assembly Speaker meets with the Iranian Ambassador to Serbia (National Assembly House, 13 Nikola Pasic Square, hall 1)