National Assembly of the Republic of Serbia / Activities / Activity details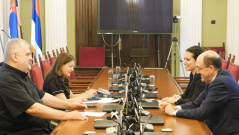 26 June 2018 The Chairman of the European Integration Committee and the Italian Ambassador to Serbia
Tuesday, 26 June 2018
European Integration Committee Chairman Meets with Italian Ambassador to Serbia
The Chairman of the European Integration Committee Nenad Canak met with the Italian Ambassador to Serbia H.E. Carlo Lo Cascio to discuss the state-of-play of Serbia's European integration process.
---
Nenad Canak said that European integration enjoys majority support at the National Assembly and according to the latest polls 52% of the public supports EU accession, an increase compared to last year's polls. Two new negotiation chapters were opened at yesterday's Intergovernmental Conference in Luxembourg raising the total to 14 so far, with chapters 25 and 26 being temporarily closed. Serbia expects the negotiation process to pick up speed as it would be an encouragement and recognition of all that Serbia's ongoing reforms have achieved so far. The Committee Chairman added he hoped three new chapters would be opened by the end of the year – chapters 9, 17 and 18, and that the European Parliament would, based on the European Commission's Progress Report, adopt a Resolution on Serbia by the end of 2018.
The Italian Ambassador praised the opening of chapters 13 and 33 stressing that Italy supports Serbia's efforts to successfully complete its talks with the EU. He said that Serbia does possess the capacity to become an EU member and, though the negotiations are difficult, has the potential to bring them to a successful end. He said that Serbia is the key factor of stability in the Western Balkans which is in turn the key factor of economic development.
The officials also discussed the reciprocal visits of high dignitaries in 2018, as well as economic, strategic and anti-corruption cooperation.


---
---
friday, 24 march
10.30 - sitting of the Agriculture, Forestry and Water Management Committee (National Assembly House, 13 Nikola Pasic Square, hall 3)

12.00 - sitting of the Committee on the Economy, Regional Development, Trade, Tourism and Energy (National Assembly House, 13 Nikola Pasic Square, hall 2)

12.00 - the Chairman of the Committee on Kosovo-Metohija meets with Member of the European Parliament (National Assembly House, 13 Nikola Pasic Square, library)

12.00 - the National Assembly Speaker meets with the Hungarian Ambassador to Serbia (National Assembly House, 13 Nikola Pasic Square, hall 1)

13.00 - sitting of the Committee on Constitutional and Legislative Issues (National Assembly House, 13 Nikola Pasic Square, hall 4)

13.00 - press conference of MP Milija Miletic (National Assembly House, 13 Nikola Pasic Square, Central Hall)