National Assembly of the Republic of Serbia / Activities / Activity details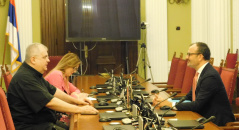 19 April 2018 The Chairman of the European Integration Committee and the Head of the EU Delegation to Serbia
Monday, 23 April 2018
European Integration Committee Chairman Meets with Head of EU Delegation to Serbia
The Chairman of the European Integration Committee Nenad Canak met today at the National Assembly with the Head of the EU Delegation to Serbia Ambassador Sem Fabrizi to discuss the European Commission 2017 – 2018 Progress Report on Serbia.
---
The officials concentrated on the parts of the Report concerning the Parliament and agreed that working on the Parliament's control role and visibility should be the focus of attention.

European Integration Committee Chairman Nenad Canak said that the Report is realistic and stressed that the National Assembly and the Serbian Government are fully committed to Serbia's European integration. He also said that the National Assembly is investing efforts to play a more active role and contribute to a speedier and more efficient association proces.


---
---