National Assembly of the Republic of Serbia / Activities / Activity details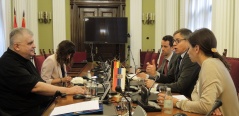 7 June 2017 The Chairman of the European Integration Committee in meeting with the German Ambassador to Serbia
Wednesday, 7 June 2017
European Integration Committee Chairman Meets with German Ambassador to Serbia
European Integration Committee Chairman Nenad Canak met today at the National Assembly with German Ambassador Axel Dittmann to discuss Serbia's European integration and the National Assembly and European Integration Committee's role in it.
---
Committee Chairman Nenad Canak thanked Ambassador Dittmann for Germany's support of Serbia's EU accession, highlighting the excellent relations between the National Assembly and the Bundestag.

Speaking of the National Assembly's role in the European integration process, Nenad Canak said that despite the intensive communication with the Government and the civil society organized in the National Convention on the European Union, the National Assembly's position and role in the process could be strengthened further. Intensive parliamentary cooperation, exchange of views and experiences with European parliamentarians could strengthen the role of the parliament and the committee in policy creation, said Canak.

German Ambassador Axel Dittmann commended Serbia's progress on the path to Europe and noted the National Assembly's crucial role in the adoption of laws from the European agenda. Ambassador Dittmann went on to ask about the specific duties of the European Integration Committee in the adoption of the laws from the European agenda.

The officials also discussed the importance of regional cooperation in the European integration process of the Western Balkan state, as well as and possible constitutional changes, adoption of the law on the funding of AP Vojvodina and the significance of communicating the importance and benefits of EU accession to the citizens.


---
---
tuesday, 29 november
11.00 - sitting of the Committee on Finance, State Budget and Control of Public Spending (National Assembly House, 13 Nikola Pasic Square, hall 2)

11.00 - video meeting of the members of the National Assembly Foreign Affairs Committee and the Ukrainian Verkhovna Rada (National Assembly House, 13 Nikola Pasic Square, hall 4)

12.00 - press conference of MP MA Ivan Kostic (National Assembly House, 13 Nikola Pasic Square, Central Hall)

12.30 - the National Assembly Speaker meets with Cypriot Minister of Defence (National Assembly House, 13 Nikola Pasic Square, hall 1)