National Assembly of the Republic of Serbia / Activities / Activity details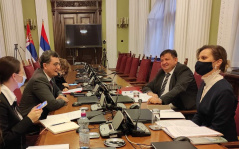 9 November 2021 The Chairman of the Committee on the Economy, Regional Development, Trade, Tourism and Energy and the Chairman of the Committee on Economy of AP Vojvodina
Tuesday, 9 November 2021
Economy, Regional Development, Trade, Tourism and Energy Committee Chairman Meets with AP Vojvodina Economy Committee Chairman
The Chairman of the Committee on the Economy, Regional Development, Trade, Tourism and Energy Veroljub Arsic met with the Chairman of the Committee on Economy of AP Vojvodina Miroslav Boskovic to discuss the cooperation between the committees of the National Assembly and the Assembly of AP Vojvodina.
---
The officials opined that there is room to intensify cooperation in the field of economy, tourism and energy and agreed that the cooperation between the provincial and republican committees would contribute to the resolution of problems, which is in the interest of the successful implementation of the legal framework and solving of all issues in the interest of the citizens' everyday life.

They also suggested having joint thematic sessions of the two committees in Belgrade, Novi Sad and Subotica in the coming period.


---
---
friday, 1 july
11.00 - the National Assembly Speaker addresses the conference on the Position of Serbia's in the Euro-Atlantic Community (National Assembly Building, 14 Kralja Milana Street, Grand Hall)