National Assembly of the Republic of Serbia / Activities / Activity details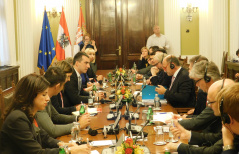 13 November 2018 The Chairman of the EU - Serbia Stabilisation and Association Parliamentary Committee and the members of the European Integration Committee in meeting with the President of the Austrian National Council
Tuesday, 13 November 2018
EU - Serbia Stabilisation and Association Parliamentary Committee Chairman Meets with Austrian National Council President
The Chairman of the EU - Serbia Stabilisation and Association Parliamentary Committee (SAPC) Dr Vladimir Orlic and the members of the European Integration Committee met today with the President of the Austrian National Council Wolfgang Sobotka, in official visit to Serbia.
---
SAPC Chairman Dr Vladimir Orlic thanked Austria for its principled support of Serbia's European integration and constant efforts to make sure Serbia's good results are recognized and the reforms conducted in the country properly evaluated. He said Serbia is ready to open seven new negotiation chapters and that opening three or four negotiation chapters by the end of the year would be a very positive signal from the EU.
Vladimir Orlic said that EU accession is Serbia's strategic goal and priority and the country is doing its best to justify the title of regional leader of cooperation, peace and stability. Orlic said that the dialogue with Pristina is also very important for the European integration process and thanked Austria for its principled stance that the solution should come as the result of talks and compromise between Belgrade and Pristina.
Austrian National Council President Wolfgang Sobotka said that Austria endorses the EU accession of all the Balkan states and that enlargement is essential for the EU because European values are the key to stability and peace in Europe.
He went on to say that the rule of law and lawful state are vital for European integration. Sobotka said that Serbia had adopted laws in line with European standards and now it is important to make sure they are implemented in full, in which the parliamentarians play a crucial role.
The officials also spoke about the Serbian citizens' support for European integration. Sobotka said that, besides the Serbian Government, the European Commission should also encourage dialogue with the civil society in Serbia and acquaint it with the advantages and significance of European integration. Orlic said that the citizens' support surges when the EU sends positive signals and the opening of three or four new negotiation chapters would be seen by the public as a recognition of the efforts Serbia and its citizens have invested in the reform.
The meeting was also attended by European Integration Committee members Zarko Micin, Elvira Kovacs, Dusica Stojkovic and Vesna Markovic.


---
---
tuesday, 7 february
8.30 - sitting of the Subcommittee on the Science and Higher Education (National Assembly House, 13 Nikola Pasic Square, hall 3)

9.00 - sitting of the Committee on Constitutional and Legislative Issues (National Assembly House, 13 Nikola Pasic Square, hall 2)

10.00 - continuation of the First Extraordinary Session of the National Assembly of the Republic of Serbia, 13th Legislature (National Assembly House, 13 Nikola Pasic Square)

11.00 - MP Mirko Ostrogonac meets with representatives of the UK Embassy in Zagreb and representatives of the UK Embassy in Serbia (National Assembly House, 13 Nikola Pasic Square, hall 2)

11.00 - sitting of the Committee on Administrative, Budgetary, Mandate and Immunity Issues (National Assembly House, 13 Nikola Pasic Square, hall 4)

12.00 - sitting of the Committee on the Economy, Regional Development, Trade, Tourism and Energy (National Assembly House, 13 Nikola Pasic Square, hall 3)

12.00 - MP Miodrag Linta meets with representatives of the UK Embassy in Croatia and representatives of the UK Embassy in Serbia (National Assembly House, 13 Nikola Pasic Square, hall 4)

12.00 - press conference of the GREEN – LEFT CLUB, DON'T LET BELGRADE D(R)OWN, WE HAVE TO; Democratic Party – DS; People's Party; UNITED – SSP, PSG, OVERTURN, SLOGA and WE HAVE TO – TOGETHER parliamentary groups (National Assembly House, 13 Nikola Pasic Square, Central Hall)

13.00 - press conference of MP Milovan Jakovljevic (National Assembly House, 13 Nikola Pasic Square, Central Hall)

14.00 - the members of the PGH with Germany meets with the German Ambassador to Serbia (National Assembly House, 13 Nikola Pasic Square, hall 2)

14.00 - press conference of MP Aleksandar Jerkovic (National Assembly House, 13 Nikola Pasic Square, Central Hall)

15.00 - the Head of the PFG with the UK meets with representatives of the UK Embassy in Croatia and representatives of the UK Embassy in Serbia (National Assembly House, 13 Nikola Pasic Square, hall 4)