National Assembly of the Republic of Serbia / Activities / Activity details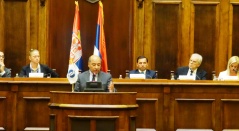 31 August 2016 The EBRD President at the National Assembly
Wednesday, 31 August 2016
EBRD President at National Assembly
The President of the European Bank for Rehabilitation and Development (EBRD) Suma Chakrabarti paid a visit to Serbia and on the occasion gave a lecture at the National Assembly on the continuation of economic reform in Serbia and the role of EBRD in the process.
---
The representatives of the legislative, executive and local authorities in Serbia, domestic and foreign economic subjects, representatives of the banking sector and the diplomatic corps were greeted by National Assembly Deputy Speaker Prof. Dr Vladimir Marinkovic who said that economic development is every government's primary task, and a strong economy guarantees the benefit of all the citizens and the prosperity of the society as a whole.
"It is Serbia's strategic goal to become a full EU member, which will motivate us to work better and achieve better living standards. On that road we have many partners who share our vision of a modern Serbia, and one of them is EBRD which has for years supported the economic reforms in Serbia", said Marinkovic.
"The reform process in Serbia is not completed, and many reforms and challenges still lay before us. The National Assembly and the Government must join forces and pass legislation which will encourage the private sector, the industry and prompt the reform of public enterprises. To achieve these long-term goals we need partners and support mechanisms which is why EBRD President's visit to Belgrade is so important to us", concluded Marinkovic.
EBRD President Suma Chakrabarti then held the lecture with the topic "Continuation of economic reform in Serbia and the role of EBRD in the process" which you can listen to here.
The gathering was organised by the National Assembly, EBRD, European Movement in Serbia and NALED.
---
---
| M | T | W | T | F | S | S |
| --- | --- | --- | --- | --- | --- | --- |
| 27 | 28 | 29 | 30 | 31 | 1 | 2 |
| 3 | 4 | 5 | 6 | 7 | 8 | 9 |
| 10 | 11 | 12 | 13 | 14 | 15 | 16 |
| 17 | 18 | 19 | 20 | 21 | 22 | 23 |
| 24 | 25 | 26 | 27 | 28 | 29 | 30 |
| 31 | 1 | 2 | 3 | 4 | 5 | 6 |
sunday, 9 august
No announcements for selected date