National Assembly of the Republic of Serbia / Activities / Activity details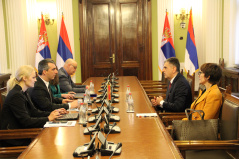 1 June 2023 The National Assembly Speaker in meeting with the Charge d'Affaires of the Embassy of Montenegro in the Republic of Serbia
Thursday, 1 June 2023
Dr Vladimir Orlic and Montenegrin Embassy Charge d'Affaires Discuss Continuation of Cooperation
The Speaker of the National Assembly of the Republic of Serbia Dr Vladimir Orlic met today with the temporary Charge d'Affaires of the Embassy of Montenegro in the Republic of Serbia Predrag Mitrovic to discuss the continued improvement of overall bilateral relations.
---
In the course of the meeting, Dr Orlic informed Mitrovic about the extremely difficult situation in Kosovo-Metohija and the daily terror which Serbs are exposed to by Albin Kurti. He said that the whole world is now clearly stating that the dangerous development of events in the southern Serbian province is solely the fault of Kurti, who wants escalation and open conflict. He stressed that the withdrawal of Kurti and his villains from the illegally usurped municipalities, the immediate cessation of legal, political and physical violence against the Serbs, as well as the final fulfilment of the signed and assumed obligations by Pristina, primarily the formation of the Community of Serb Municipalities, would lead to a substantial de-escalation in Kosovo. Predrag Mitrovic said that Montenegro supports the dialogue and the full implementation of all agreements resulting from the dialogue.
In a meaningful and constructive conversation, the officials welcomed the intensive contacts and excellent cooperation between the two parliaments at all levels, expressing their determination to use these to further improve the cooperation between Serbia and Montenegro in all other areas of interest. They also expressed a strong commitment to the continuation of economic integration, the realisation of the most important infrastructure projects, joint work in the sphere of transport, as well as opportunities for cooperation within the "Open Balkans" initiative, which, they agreed, in addition to the economic progress of the member states, contributes to the development and strengthening good neighbourly relations.
Predrag Mitrovic took the opportunity to once again underline the importance of the historical connection, closeness and friendship between the two nations, expressing Montenegro's readiness to continue to work together with Serbia. The officials agreed that the most important indicator of the new period in the relations between the two countries, as well as their prospects, is the participation of the President of the Republic of Serbia Aleksandar Vucic at the inauguration of the President of Montenegro Jakov Milatovic and President Milatovic's expected visit of to Belgrade.
---
Photo gallery
---
---
monday, 2 october
10.40 - the National Assembly Speaker's address at the event "Joy of Europe" (National Assembly House, 13 Nikola Pasic Square, Central Hall)

12.00 - continuation of the sitting of the Committee on the Economy, Regional Development, Trade, Tourism and Energy (National Assembly House, 13 Nikola Pasic Square, hall 2)

14.15 - the National Assembly Speaker meets with a delegation of rapporteurs of the Parliamentary Assembly of the Council of Europe Monitoring Committee (National Assembly House, 13 Nikola Pasic Square, hall 1)

16.00 - the heads of the parliamentary groups meet with the delegation of rapporteurs of the Parliamentary Assembly of the Council of Europe Monitoring Committee (National Assembly Building, 14 Kralja Milana Street, Blue Salon)

17.45 - the members of the Committee on Constitutional and Legislative Issues meet with the delegation of rapporteurs of the Parliamentary Assembly of the Council of Europe Monitoring Committee (National Assembly Building, 14 Kralja Milana Street, Blue Salon)