National Assembly of the Republic of Serbia / Activities / Activity details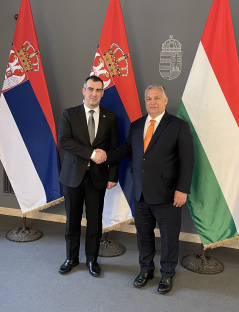 27 March 2023 The National Assembly Speaker and the Hungarian Prime Minister
Monday, 27 March 2023
Dr Vladimir Orlic Meets with Viktor Orban as Part of Official Visit to Hungary
The Speaker of the National Assembly of the Republic of Serbia Dr Vladimir Orlic spoke today, as part of his official visit to Budapest, with Prime Minister of Hungary Viktor Orban, with whom he discussed the continuation of overall cooperation, as well as all key issues for the region and Europe.
---
Dr Orlic said that Serbia deeply appreciates the level of cooperation achieved with Hungarian friends in almost all fields, be it the implementation of the most important infrastructure projects such as the construction of the Belgrade-Budapest high-speed railway, mutual support in terms of energy supply, or joint engagement on preventing illegal migration. "The seal to our relations and guarantee for continued cooperation comes in the form of the Agreement between the Government of the Republic of Serbia and the Government of Hungary on friendly relations and cooperation in the field of strategic partnership, recently ratified by the Serbian Assembly, and the announced formation of a strategic council between the two countries will be of particular importance. We are also extremely grateful for Hungary's help as regards gas storage and the determination to provide us with those capacities for the next winter as well. We are proud to be working together as well as of the two nations; strong and trues friendship", said Dr Orlic.
In the course of the meeting, the officials praised the intensive contacts between the two countries' dignitaries at all levels, primarily the friendly relationship between the Prime Minister of Hungary and the President of the Republic of Serbia. "In previous years, this friendship has produced nothing but benefits for our two countries and our two peoples, and we sincerely want to continue to work together in that direction and toward that goal in the future", said Dr Orlic.
The Speaker of the National Assembly of the Republic of Serbia thanked the Hungarian Government for its relations towards the members of the Serbian community in Hungary and the fact that their position has reached a historical maximum in previous years. He said that Serbia particularly appreciates the strong and continuous personal support of Prime Minister Orban to our country on its European path, as well as the clear and strong political support for Serbia on all important issues. "We deeply respect and appreciate the friendship Hungary has for Serbia, the friendship that we also feel toward you and be sure that you can always expect support and an outstretched hand for any cooperation from our side - always," said the Speaker of the National Assembly of the Republic of Serbia.
---
Photo gallery
---
---