National Assembly of the Republic of Serbia / Activities / Activity details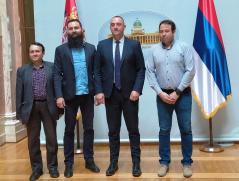 28 April 2021 The Chairman of the Committee on the Diaspora and Serbs in the Region Milimir Vujadinovic with the representatives of the Serbian Cultural Centre "Vuk Stefanovic Karadzic" from Backa Topola
Wednesday, 28 April 2021
Diaspora and Serbs in the Region Committee Chairman Receives Representatives of Serbian Cultural Centre from Backa Topola
The Chairman of the Committee on the Diaspora and Serbs in the Region Milimir Vujadinovic received today in the National Assembly the representatives of the Serbian Cultural Centre "Vuk Stefanovic Karadzic" from Backa Topola to discuss supporting cultural centre's work.
---
The representatives of the "Vuk Stefanovic Karadzic" Cultural Centre, Vladimir Rac, Dragan Tankosic and Sasa Gravorac, informed Milimir Vujadinovic about the work of this cultural centre, whose main goal is to preserve the tradition of Serbs. They said that as many as 350 children from Backa Topola are members and included in the work of this association, whose main activity is folklore, and there is also a literary and music section.
They praised the work of the Committee on the Diaspora and Serbs in the Region, emphasizing its openness and readiness for communication and cooperation.
Committee Chairman Milimir Vujadinovic stressed the importance of coexistence of the Serb population with all the national communities living in Serbia, especially in the north of Backa, as well as the importance of connecting with Serb associations in the region and the diaspora.
Vujadinovic opined that coexistence and cultural connections can exist only in environments characterized by peace, prosperity and a high employment rate, stressing that Serbia, led by President Aleksandar Vucic, pursues such a policy.
Vujadinovic especially emphasized the importance of the "little Schengen" initiative, launched by the President of the Republic, which enables the removal of barriers and the connection of the entire region at the economic, cultural and security level, and asked his guests to highlight the importance of this initiative through their work at every opportunity.
---
---
saturday, 2 july
No announcements for selected date