National Assembly of the Republic of Serbia / Activities / Activity details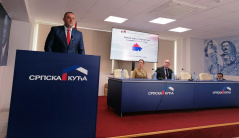 24 May 2021 The Chairman the Committee on the Diaspora and Serbs in the Region Milimir Vujadinovic
Monday, 24 May 2021
Diaspora and Serbs in the Region Committee Chairman Milimir Vujadinovic Visits Serbian House
On 23 and 24 May 2021, the Chairman the Committee on the Diaspora and Serbs in the Region Milimir Vujadinovic visited "Serbian House", the umbrella institution of culture and creative industry of the Serb people in Montenegro, gift of the President and Government of the republic of Serbia.
---
On the occasion, Vujadinovic met and talked with a large number of Serbian authors, cultural and political representatives of Serbs in Montenegro. The current political, economic and cultural circumstances in which the Serbian people in Montenegro are fighting for survival and preservation of their national identity were examined in detail in an open and friendly conversation.
Committee Chairman Vujadinovic praised the importance and role of the "Serbian House" in preserving and improving the cultural heritage of the Serbian people in Montenegro. He informed his hosts in great detail about the readiness of the state of Serbia, its leadership and authorities to exercise their constitutional right and duty to, respecting the laws of the states they live in, provide undivided support to Serbs wherever they might be. Vujadinovic also emphasised President Vucic's idea of creating a Balkan "mini-Schengen" that would enable better cooperation, economic, cultural and social connections between Serbs in the region and at the same time strengthen relations with other nations and communities with which the Serbian people have lived for centuries.
As part of the visit, Committee Chairman Milimir Vujadinivic also took part in the roundtable organised by the Serbian National Council of Montenegro on the topic "Serbian people in Montenegro in new circumstances". First of all, he conveyed the greetings of the Serbian state bodies and their leaders and once again emphasised the readiness of the state of Serbia to, in every way possible, support any effort of Serbs in Montenegro to fight for all the rights guaranteed by domestic legislation and international conventions to nations. As a possible model to resolve this issue, he offered the way in which the state of Serbia treats and resolves the national and cultural issues of the communities living on its territory, regardless of their numbers.
Finally, Vujadinovic emphasised the openness of the Committee he heads, the Assembly and all of Serbia's state bodies for cooperation with cultural, political and non-governmental organisations of Serbs from Montenegro, as well as Serbia's readiness to accept and support even those Montenegrin citizens who do not belong to the Serbian corps.
---
---
friday, 1 july
11.00 - the National Assembly Speaker addresses the conference on the Position of Serbia's in the Euro-Atlantic Community (National Assembly Building, 14 Kralja Milana Street, Grand Hall)