National Assembly of the Republic of Serbia / Activities / Activity details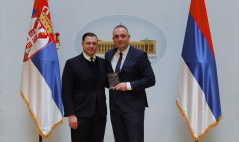 29 December 2021 The Chairman of the Committee on the Diaspora and Serbs in the Region and the President of the Union of Serbs in Slovenia
Wednesday, 29 December 2021
Diaspora and Serbs in the Region Committee Chairman Meets with President of the Union of Serbs in Slovenia
The Chairman of the Committee on the Diaspora and Serbs in the Region Milimir Vujadinovic met with the President of the Union of Serbs in Slovenia MA Vladimir Kokanovic at the National Assembly House.
---
At the very beginning of the meeting, MA Vladimir Kokanovic presented the Committee Chairman with letter of thanks for his selfless support of the Union of Serbs in Slovenia, great contribution to the development and preservation of the Serbian language, culture and tradition of Serbs in Slovenia and the further strengthening of ties between the Serbian and Slovenian people.

In the course of the meeting, Kokanovic spoke of Milimir Vujadinovic's recent visit to Ljubljana when he met with representatives of Serbs in the Republic of Slovenia and attended the signing of the Declaration on Cooperation of Serbian Associations in the Republic. Kokanovic declared the visit historic, saying that it represented a great step forward for the Serbian community.

The officials talked about the upcoming elections both in Serbia and in Slovenia.

The President of the Union of Serbs in Slovenia MA Vladimir Kokanovic expressed hope that the political situation in Serbia would remain unchanged in the next term, since the policy pursued by the current administration, led by President Aleksandar Vucic, has resulted in a better position of Serbs in Slovenia and an active attitude of the Republic of Serbia toward Serbs in the region. Kokanovic pointed out that the Serbs in Slovenia, thanks to the policy advocated by this Government, have seen progress and felt the benefits of the motherland's progress.

Kokanovic spoke about the status of the Serbian national minority, stressing that despite the fact that the Serbian population is the largest minority community, it is not recognised as a national minority in Slovenia.

Milimir Vujadinovic expressed hope that the Committee for Diaspora and Serbs in the region would soon organise a visit to the Union of Serbs in Slovenia and the Slovenian Parliament to secure an even better position of the Serbian people in Slovenia.


---
---
monday, 23 may
No announcements for selected date