National Assembly of the Republic of Serbia / Activities / Activity details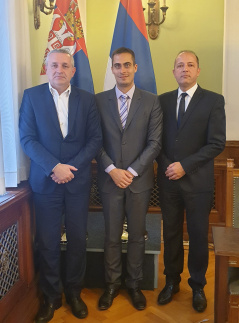 5 June 2019 The Chairman and member of the Committee on the Diaspora and Serbs in the Region Miodrag Linta and Blaza Knezevic and Hungarian Embassy Counsellor Tamás Böde
Wednesday, 5 June 2019
Diaspora and Serbs in the Region Committee Chairman Meets with Hungarian Embassy Counsellor
The Chairman of the Committee on the Diaspora and Serbs in the Region Miodrag Linta met today at the National Assembly House with the First Counsellor of the Embassy of Hungary Tamás Böde to discuss the status of the Serbian diaspora in the Western Balkan region and Serbia's relations with the countries of the Western Balkans.
---
Tamás Böde, in charge of regional policy on behalf of the Hungarian Embassy, wanted to know more about the status of the Serbian minority in the countries in the region, stressing that the Hungarian Government greatly values the relationship and cooperation between Serbia and Hungary which has been improved across the board in the last years.
Committee Chairman Miodrag Linta opined that the two countries' relationship is excellent and the joint government sessions are a big step forward in promoting cooperation. Linta also thanked the Hungarian Government for abstaining during so-called Kosovo's UNESCO bid and restrained stance on Pristina's decision to establish the so-called Kosovo Army. Linta spoke about the difficult position of Serbs in Kosovo-Metohija stressing that the international community should react more strongly to Pristina's moves.
In the course of the meeting, Linta briefed the guest on the position of the Serbian national minority in all eight countries in the region, pointing out that it is especially discriminated against in Croatia, Federation of Bosnia and Herzegovina, Montenegro and Albania, and in a difficult position in Macedonia and Slovenia. He praised Hungary and Romania for respecting the Serbian community's national interests and rights.
Miodrag Linta said that Serbia is a best practice example in Europe in terms of minority rights and status, having recognized 23 national minorities and established 23 national minority councils as their umbrella organizations. Since it values and respects the position of its minorities, Serbia expects the other countries in the region to take the same stance on the Serbian people in the region and respect the policy of equality and reciprocity.

The meeting as also attended by MP Blaza Knezevic who said that the Serbia-Hungary relations are at an all-time high.


---
---
thursday, 24 september
No announcements for selected date