National Assembly of the Republic of Serbia / Activities / Activity details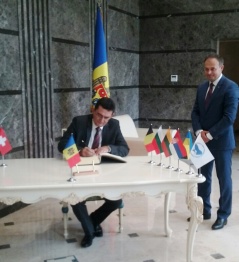 9 September 2016 Deputy Speaker Veroljub Arsic at the 25th anniversary of the Independence of the Republic of Moldova
Tuesday, 13 September 2016
Deputy Speaker Veroljub Arsic at Moldovan Independence Celebration
At the invitation of the Chairman of the Parliament of the Republic of Moldova Andrian Candu, Deputy Speaker of the National Assembly of the Republic of Serbia, Veroljub Arsic, was in an official visit to Chisinau, the Republic of Moldova, on 9 September. The occasion was the celebration of the 25th anniversary of the Independence of the Republic of Moldova.
---
25 years ago, on 27 August 1991, the Parliament of Moldova adopted the Declaration of Independence, which proclaims that the Republic of Moldova is a sovereign and independent state.

In celebration of this day, the hosts welcomed distinguished guests, Speakers and Deputy Speakers of Parliamentary Assemblies, as well as Ambassadors to Moldova. Veroljub Arsic, as well as the other representatives of parliaments signed the Guestbook. After that, the hosts led the guests to attend the Flower-laying Ceremony at the Monument to Ştefan cel Mare, one of the most important rulers of Moldova who fought against the Hungarian, Polish and Ottoman Empire for the independence of Moldova in the second half of the 15th century.

After visiting the monument to Ştefan cel Mare, delegations were accompanied to the Palace of the Republic where there was a commemorative programme held with speeches delivered by hosts and guests, as well as MPs of the first Parliament of Moldova, who signed the Declaration of Independence.


---
---
| M | T | W | T | F | S | S |
| --- | --- | --- | --- | --- | --- | --- |
| 27 | 28 | 29 | 30 | 31 | 1 | 2 |
| 3 | 4 | 5 | 6 | 7 | 8 | 9 |
| 10 | 11 | 12 | 13 | 14 | 15 | 16 |
| 17 | 18 | 19 | 20 | 21 | 22 | 23 |
| 24 | 25 | 26 | 27 | 28 | 29 | 30 |
| 31 | 1 | 2 | 3 | 4 | 5 | 6 |
sunday, 9 august
No announcements for selected date