National Assembly of the Republic of Serbia / Activities / Activity details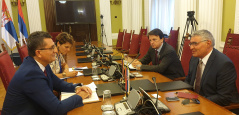 5 September 2019 National Assembly Deputy Speaker Veroljub Arsic in meeting with the newly-appointed non-resident Ambassador of the Republic of Armenia H.E. Ashot Hovakimyan
Thursday, 5 September 2019
Deputy Speaker Veroljub Arsic Meets with Newly-Appointed Armenian Ambassador
National Assembly Deputy Speaker Veroljub Arsic welcomed the newly-appointed non-resident Ambassador of the Republic of Armenia stationed in Prague H.E. Ashot Hovakimyan.
---
Informing the Ambassador that the National Assembly's PFG with Armenia boasts 19 members, Deputy Speaker Arsic opined that reciprocal visits of parliamentary friendship groups and working body members can help advance interparliamentary cooperation.
Arsic added that economic, defence and especially cultural cooperation should be improved because a nation's culture is the mark of its people, their language and customs, that help build bridges between nations.
Arsic went on to thank the Republic of Armenia for its principled stance on Serbia's territorial integrity and briefed the Ambassador on the situation in Kosovo-Metohija and the fact that the anti-civilizational and illegal customs tariffs Pristina imposed on goods from Serbia and Bosnia and Herzegovina are still in force, also mentioning the establishment of the so-called Kosovo army which contravenes UNSC Resolution 1244. Arsic said that Serbia is willing to talk and that dialogue is the only viable solution, but Pristina does not want to talk, abolish the abovementioned tariffs and abide by the Brussels Agreement.
Arsic also said that Belgrade will be hosting the 141st Assembly of the Inter-Parliamentary Union on 13 - 17 October and he hopes an Armenian delegation will take active part in the event.
The Armenian Ambassador agreed with Arsic that cooperation via parliamentary friendship groups is vital for the advancement of parliamentary cooperation. Liberalization of the visa regime is very important for both nations, as is the opening of a Serbian embassy in Yerevan by the end of the year. The Ambassador said that the Armenian President will be visiting Serbia in October when a number of agreements would be signed to advance bilateral cooperation between the two countries. He informed Deputy Speaker Arsic about the current in internal and foreign policy in his country, adding that Armenia elected a new government and parliament last year, as well as adopted a new Constitution.
At the end of the meeting the officials agreed that overall cooperation should be advanced through reciprocal visits of high-dignitaries and parliamentarians.


---
---
monday, 16 may
No announcements for selected date