National Assembly of the Republic of Serbia / Activities / Activity details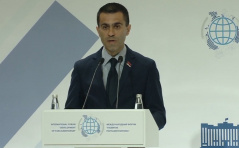 2 July 2019 National Assembly Deputy Speaker Djordje Milicevic at the roundtable on media wars and combating fake news
Tuesday, 2 July 2019
Deputy Speaker Milicevic at Roundtable on Media Wars and Combating Fake News
On day two of the Forum "Development of Parliamentarism" in Moscow, National Assembly Deputy Speaker Djordje Milicevic took part in the roundtable on media wars and combating fake news.
---
He said that the internet and modern communication technologies have significantly changed the media and spread of information. The Deputy Speaker said that the very phrase "fake news" is a contradiction in terms because news is a new, correct and precise information which is something "fake news" definitely is not, stressing that the general public needs to be protected from fake news and the spread of an uncritical public opinion so as to protect the public sphere from the spread of disinformation. He also stressed that media literacy needs to be made part of formal education.

Milicevic went on to speak about the media in the Republic of Serbia. Pursuant to the Law on Public Information and the Media, everybody has the right to true, complete and timely information about the issues of public importance and the providers of public information shall honour this right. Serbia is working on a draft media strategy, the public debate on which ended on 1 March 2019 followed by an analysis of the participants' suggestions and criticisms which is underway now, while the strategy is expected to be adopted by mid-2019. The competent Ministry of Culture and the Media is working on developing media literacy, coordinating all the stakeholders in the matter and organizing meetings with representatives of relevant ministries, media and professional associations, the academia, civil society, etc.


---
---
friday, 30 september
9.30 - press conference of MP Nebojsa Zelenovic (National Assembly House, 13 Nikola Pasic Square, Central Hall)

12.00 - National Assembly Deputy Speaker Sandra Bozic speaks at the opening of the children's exhibition on the topic: Bridge of Understanding – Intergenerational Solidarity (National Assembly House, 13 Nikola Pasic Square, Central Hall)

13.30 - National Assembly Deputy Speaker Sandra Bozic meets with the First Secretary of the UK Embassy in the Republic of Serbia (National Assembly House, 13 Nikola Pasic Square, hall 3)

14.00 - press conference of MP Radmila Vesic (National Assembly House, 13 Nikola Pasic Square, Central Hall)

14.15 - press conference of MP Dragan Nikolic (National Assembly House, 13 Nikola Pasic Square, Central Hall)