National Assembly of the Republic of Serbia / Activities / Activity details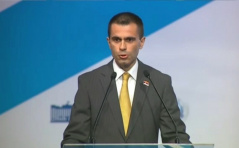 3 July 2019 National Assembly Deputy Speaker Djordje Milicevic at the closing ceremony of the Forum "Development of Parliamentarism"
Wednesday, 3 July 2019
Deputy Speaker Milicevic at Closing Ceremony of Forum "Development of Parliamentarism"
Djordje Milicevic, Deputy Speaker of the National Assembly of the Republic of Serbia, spoke at the closing ceremony of the Forum "Development of Parliamentarism" in Moscow on 3 July. He said that the Forum focused on the most important modern issues of international security, interparliamentary cooperation, digital future, media wars and combating fake news, that all require a coordinated action.
---
Deputy Speaker Milicevic said that Serbia is determined to continue to consistently and unconditionally preserve the fundamental principles of international relations, responsibly develop cooperation at all levels with all of its friends and interested partners. By defending its sovereignty and territorial integrity the Republic of Serbia defends international law and the highest authority of the United Nations Security Council in the protection of international peace and security and the tenets of the UN Charter.
To protect international peace, stability and security, the Republic of Serbia stands, with firm principle and consistence, for the international law, free and equal cooperation on the international scene, without the use of sanctions and instruments of coercion. National Assembly Deputy Speaker Djordje Milicevic said that the Republic of Serbia will never impose sanctions on the Russian Federation and its people and will continue to pursue an independent policy aimed at peace and security, as well as stability as the key to development.


---
---
monday, 23 may
No announcements for selected date