National Assembly of the Republic of Serbia / Activities / Activity details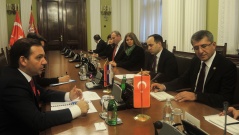 1 December 2016 National Assembly Deputy Speaker Prof. Dr Vladimir Marinkovic and the delegation of the Grand Assembly of the Republic of Turkey
Friday, 2 December 2016
Deputy Speaker Marinkovic Meets with Turkish Grand Assembly Delegation
National Assembly Deputy Speaker Prof. Dr Vladimir Marinkovic received the delegation of the Grand Assembly of the Republic of Turkey taking part in the 48th PABSEC General Assembly in Belgrade.
---
Speaking to the Turkish parliamentarians, Marinkovic said that Serbia is dedicated to promoting the relations between the two countries, especially interparliamentary cooperation. He said that Serbia truly appreciates the establishment of the Serbia-Turkey Strategic Cooperation Council of which he has great expectations, and that he is especially pleased by the strengthening of economic cooperation and the Turkish investments into Serbia, accompanied by the arrival of a Turkish bank in the country.

"About a month ago, a Parliamentary Friendship Group with Turkey was set up in the National Assembly, comprising 29 MPs interested in advancing both political and economic cooperation with their counterparts in the Turkish parliament", stressed Marinkovic.

He said that in 2015 Serbia endorsed Turkey's bid for SEECP Secretariat seat and reaffirmed the National Assembly's support of the Turkey – Bosnia and Herzegovina - Serbia trilateral commission's efforts to promote trade. Marinkovic said that he expected Turkey's support in the promotion of peace, tolerance and cooperation in the Balkan region, adding that Serbia is committed to the Dayton Accords and fully supports all the agreements of the three constituent nations of Bosnia and Herzegovina. Marinkovic then asked the Turkish colleagues to focus their attention more on Serbs' human rights in Kosovo-Metohija.

Speaking of the European Parliament's resolution to suspend Turkey's talks for EU membership, Marinkovic urged for dialogue and continuation of Turkey's European integration. He said that Serbia fully supports Turkey in its fight against terrorism, whoever the offending party might be.

On the behalf of the delegation of the Grand Assembly of the Republic of Turkey, Ӧmer Serdar thanked the National Assembly for the successful six-month presidency of PABSEC, which the National Assembly Speaker had handed over to the Turkish delegation today.

He said that Serbia and Turkey are friendly countries who could intensify their cooperation in all fields. He said that his country fully supports Serbia's European integration and expects Serbia to open additional EU negotiation chapters by the end of the year.

Serdar asked his Serbian colleagues for support for the election of Istanbul for the seat of the SEECP Secretariat, which the organisation is to rule on next year at a session in Croatia, and invited the Parliamentary Friendship Group with Turkey to visit his country.


---
---
| M | T | W | T | F | S | S |
| --- | --- | --- | --- | --- | --- | --- |
| 27 | 28 | 29 | 30 | 31 | 1 | 2 |
| 3 | 4 | 5 | 6 | 7 | 8 | 9 |
| 10 | 11 | 12 | 13 | 14 | 15 | 16 |
| 17 | 18 | 19 | 20 | 21 | 22 | 23 |
| 24 | 25 | 26 | 27 | 28 | 29 | 30 |
| 31 | 1 | 2 | 3 | 4 | 5 | 6 |
sunday, 9 august
No announcements for selected date