National Assembly of the Republic of Serbia / Activities / Activity details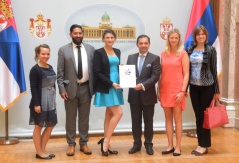 25 August 2015 Deputy Speaker Marinkovic and the representatives of organisation One Young World
Tuesday, 25 August 2015
Deputy Speaker Marinkovic Meets with Representatives of Organisation One Young World
National Assembly Deputy Speaker and Head of the Economic Caucus, Prof. Dr Vladimir Marinkovic met with the representatives of London organisation One Young World regarding Belgrade's bid for the 2018 Summit.
---
One Young World is an organisation gathering more than 1500 young leaders from around the world which organises yearly summits with the idea of connecting young people and fostering business and economic relations.

Deputy Speaker Marinkovic stressed that the National Assembly fully supports the organisation of the summits, adding that Serbia's chief idea is to keep young educated people in the country, give them job opportunities and prospects, and added that the role and benefits of connecting young leaders through summits could prove both significant and varied.

Ella Robertson, representative of organisation One Young World, said that, judging by its potentials, Belgrade could be the San Francisco of South-East Europe and that she would be happy to see it beat The Hague in the 2018 Summit bid. If it did, Robertson claims that during the four days of the Summit the participants would be able to foster good ties with Belgrade, making it a place of note for them. She stressed that the key messages of the 2018 Summit would be that Serbia is open to business opportunities and appreciation of human rights and dignity. In that respect, she mentioned Serbia's humane treatment of the emigrants.

Deputy Speaker Marinkovic briefed the representatives of One Young World on the economic and political reform process in Serbia. He said that Serbia's relations with the European Union are excellent, as are its ties with China, Arab countries and Russia, and that the relationship with the US has been exceptionally good in the last couple of years, adding that Serbia has also become interesting to investors.


---
---
wednesday, 6 december
No announcements for selected date