National Assembly of the Republic of Serbia / Activities / Activity details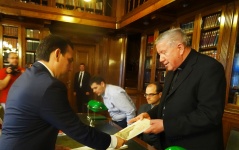 8 July 2016 Deputy Speaker Marinkovic and the Archbishop of Belgrade Hocevar
Friday, 8 July 2016
Deputy Speaker Marinkovic Meets with Belgrade Archbishop Hocevar to Discuss Improvement of Cooperation
National Assembly Deputy Speaker Prof. Dr Vladimir Marinkovic met with the Archbishop of Belgrade Stanislav Hocevar at the National Assembly House to discuss how best to intensify dialogue and cooperation between the state bodies and the Catholic Church. They touched on many important issues such as the global economic and migrant crisis, as well as the crisis of faith and the need to bring the collective spirit back to the path of trust and forgiveness.
---
Marinkovic thanked Archbishop Hocevar for his visit to the National Assembly and assured him that he would promote the development of cooperation and deepening of dialogue between the two Christian churches through debates and roundtables focused on fostering ties between the two nations and churches.

"Christianity is such a strong tie that the different confessions, Orthodox and Catholic, cannot truly keep us apart", said Marinkovic.

Marinkovic asked about the status of the Catholic community in the Republic of Serbia and the quality of its cooperation with the state institutions.

Archbishop Hocevar was grateful for the initiative for dialogue, opining that regular meetings and broader inclusion of the public through roundtables and debates could considerably contribute to an improvement of cooperation and the relationship between the Catholic Church and state bodies. He also believes that the Catholic Church could be of great help to Serbia's EU accession process.

The Archbishop also outlined the difficulties in the restitution process, hoping that an adequate solution to the issue would be found in the future.

They agreed that the cooperation should be based on honest and open dialogue with clearly defined and frank relations between Serbia and Croatia, because that is of strategic importance for the entire region.


---
---
| M | T | W | T | F | S | S |
| --- | --- | --- | --- | --- | --- | --- |
| 27 | 28 | 29 | 30 | 31 | 1 | 2 |
| 3 | 4 | 5 | 6 | 7 | 8 | 9 |
| 10 | 11 | 12 | 13 | 14 | 15 | 16 |
| 17 | 18 | 19 | 20 | 21 | 22 | 23 |
| 24 | 25 | 26 | 27 | 28 | 29 | 30 |
| 31 | 1 | 2 | 3 | 4 | 5 | 6 |
friday, 7 august
No announcements for selected date