National Assembly of the Republic of Serbia / Activities / Activity details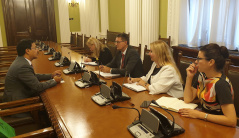 3 September 2019 National Assembly Deputy Speaker Veroljub Arsic in meeting with the non-resident Ambassador of the Kingdom of Saudi Arabia H.E. Hani bin Abdullah bin Mohammed Mominah
Tuesday, 3 September 2019 10:49
Deputy Speaker Arsic and Saudi Ambassador Talk Improving Parliamentary, Economic and Cultural Cooperation
National Assembly Deputy Speaker Veroljub Arsic met today with non-resident Ambassador of the Kingdom of Saudi Arabia H.E. Hani bin Abdullah bin Mohammed Mominah. The officials discussed improving parliamentary, economic and cultural cooperation, as well as the stability in the region as viewed through the relationship between Belgrade and Pristina.
---
The officials agreed that an intensification of parliamentary cooperation could further strengthen the good and friendly relations between the Kingdom of Saudi Arabia and the Republic of Serbia. H.E. Mominah added that the participation of a Saudi delegation in the 141st IPU Assembly in October in Belgrade is another good opportunity to further cooperation between the MPs.
Deputy Speaker Arsic said that the National Assembly is dedicated to developing interparliamentary cooperation though parliamentary diplomacy and stressed the importance of cooperation at the level of parliamentary friendship groups and exchange of visits of parliamentary delegations. The officials agreed that opening embassies in Belgrade and Riyadh is vital for the advancement and strengthening of cooperation between the two countries.
Deputy Speaker Arsic also emphasized the importance of peace and stability in the region which the Republic of Serbia considers vital. To that end he spoke about the problem between Belgrade and the transitional institutions in Kosovo.
"Serbia wants to resolve this problem through dialogue and mutually acceptable agreement. Pristina has been making one-sided moves for some time now, such as imposing 100% customs tariffs on goods from central Serbia and Bosnia and Herzegovina. It has also been applying to join international organizations even though it is not a member of the United Nations. Supporting it means supporting their one-sided moves. By doing this Pristina threatens not only the dialogue, but the peace and security in the region", said Arsic stressing that because of all of this the support of the Kingdom of Saudi Arabia has been invaluable for Serbia. H.E. Mominah said that, for the sake of stability in the region, the Kingdom of Saudi Arabia also considers dialogue the only acceptable solution.
Deputy Speaker Arsic and H.E. Mominah also spoke about the development of economic cooperation agreeing, on the eve of the coming visit of over 20 Saudi businessmen to Serbia this month, that Serbia is a very attractive and dependable country for foreign investments.
The officials also highlighted the importance of advancing cultural cooperation and student exchange.


---
---
monday, 23 may
No announcements for selected date