National Assembly of the Republic of Serbia / Activities / Activity details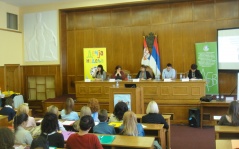 4 October 2016 The session of Student Parliament
Tuesday, 4 October 2016
Deputy Chairperson of the Committee on the Rights of the Child Milena Bicanin Opens Student Parliament Session
As part of Children's Week, the National Assembly Hosted a session of the Student Parliament. Opening the session, the Deputy Chairperson of the Committee on the Rights of the Child Milena Bicanin welcomed the participants, saying she was honoured to be given the opportunity to open the gathering.
---
She briefed the participants on the Committee's scope of activity, saying it was the Committee's priority to protect the rights of children, review laws, accept initiatives and forward them for further consideration. She also added that the Committee cooperates with local self-governments and international organisations all with goal to give the children a serious opportunity to grow up responsibly.

This year's Children's Week 2016 with the motto "I don't want to worry, I want to play" is dedicated to the child's right to play and to free time, said Bicanin, telling the children that there is no shame in taking care of oneself or helping others, there is no shame in being informed and that is why children should use social networks and take part in decision-making.

The participants of the gathering were also addressed by representatives of the Ministry of Education, Science and Technological Development who said that the Ministry is preparing significant program objectives – reform of the state final exam to simplify enrolment into university and give all an equal chance to enrol in a state university, and introduction of computer science as a compulsory subject in elementary schools.

On the behalf of the organisers of the event the students were addressed by Iva Erakovic, Executive Director of the Friends of the Children. She informed the participants that the history of Children's Week dates back to 1934. It is often said that children have really changed, but the Friends of the Children of Serbia do not agree. Erakovic believes that children have always had the same needs, it is only the framework within which these needs are met that changes. She said that this year's motto of Children's Week "I don't want to worry, I want to play" should remind us that playing is every child's first and most important job because it is through play that a child establishes the first contact with its environment, its parents and peers. Without playing, there is no educational or cultural development, concluded Erakovic.
In the continuation of the Student Parliament session, the high-schoolers shared their experiences with and proposals for the advancement of protection of children and youth from abuse on the Internet.


---
---
tuesday, 23 april
8.30 - sitting of the Committee on Labour, Social Issues, Social Inclusion and Poverty Reduction (National Assembly House, 13 Nikola Pasic Square, hall 4)

9.00 - sitting of the Committee on Constitutional and Legislative Issues (National Assembly House, 13 Nikola Pasic Square, hall 2)

9.00 - sitting of the Defence and Internal Affairs Committee (National Assembly House, 13 Nikola Pasic Square, hall 3)

9.00 - sitting of the Committee on Finance, State Budget and Control of Public Spending (National Assembly House, 13 Nikola Pasic Square, hall 4)

9.30 - sitting of the Committee on the Economy, Regional Development, Trade, Tourism and Energy (National Assembly House, 13 Nikola Pasic Square, hall 4)

9.30 - sitting of the Committee on the Judiciary, Public Administration and Local Self-Government (National Assembly House, 13 Nikola Pasic Square, hall 3)

10.00 - continuation of the Fourth Sitting of the First Regular Session of the National Assembly of the Republic of Serbia in 2019 (National Assembly House, 13 Nikola Pasic Square)

10.00 - sitting of the Committee on Spatial Planning, Transport, Infrastructure and Telecommunications (National Assembly House, 13 Nikola Pasic Square, hall 2)

10.30 - sitting of the Committee on Constitutional and Legislative Issues (National Assembly House, 13 Nikola Pasic Square, hall 4)

11.00 - press conference of MPs Jovan Jovanovic and Sonja Pavlovic (National Assembly House, 13 Nikola Pasic Square, Central Hall)

11.30 - press conference of MP Djordje Vukadinovic (National Assembly House, 13 Nikola Pasic Square, Central Hall)

12.00 - sitting of the Committee on Spatial Planning, Transport, Infrastructure and Telecommunications (National Assembly House, 13 Nikola Pasic Square, hall 2)

14.15 - press conference of MP Bosko Obradovic (National Assembly House, 13 Nikola Pasic Square, Central Hall)