National Assembly of the Republic of Serbia / Activities / Activity details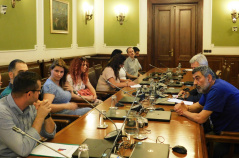 14 June 2019 The Deputy Chairman of the Committee on Education, Science, Technological Development and the Information Society Prof. Dr Ljubisa Stojmirovic in meeting with the representatives of "old" students
Friday, 14 June 2019
Deputy Chairman of the Committee on Education, Science, Technological Development and the Information Society Talks Extension with Students
The Deputy Chairman of the Committee on Education, Science, Technological Development and the Information Society Prof. Dr Ljubisa Stojmirovic received a group of undergraduate students, enrolled in university and/or college before the Law on Higher Education came into force, to discuss their demands for an extension.
---
Since this was not their first meeting, Deputy Chairman Prof. Dr Stojmirovic wanted to know why the so-called "old" students have still not completed their studies and why they are asking for an extension.

The representatives of mostly students of the University of Belgrade said low exam pass rates with some professors, the merging and/or overlap of some exam periods and high expenses of study year renewals are the chief reasons for their demands. They said that the universities do not want to meet their demands so they again address the competent Assembly Committee because they believe that the students who enrolled in the old study programmes should not be tied to deadlines. They informed Prof. Dr Stojmirovic about the statistics on the number of students who had signed these demands since 2014 to date – 8,245 in 2014 to over 3,000 in 2019. They listed concrete examples from some faculties saying that though the University of Belgrade has agreed not to charge for renewals it is quite the opposite in practice. The representatives of the students concluded that they can complete their studies only with an extension and that the claims the study programme they are following is obsolete do not stand. They asked that the rules that were in force when they enrolled be respected and that there are no deadlines for "old" students.
Prof. Dr Ljubisa Stojmirovic endorsed the demands of the student representatives saying that no one should be barred from completing the course they had plotted and that the knowledge they have cannot be stolen from them. He advised to continue addressing the faculties and promoting their demands in the media.
The meeting was attended by representatives of the faculties of Medicine, Philology, Law, Economics, Philosophy and Agriculture of the University of Belgrade and representatives of the faculties of Sport and Physical Education and of Medicine in Nis.


---
---
thursday, 9 july
13.00 - press conference of MPs Sasa Radulovic, Branka Stamenkovic and Vojin Biljic (National Assembly House, 13 Nikola Pasic Square, Central Hall)