National Assembly of the Republic of Serbia / Activities / Activity details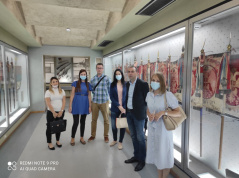 14 June 2021 The members of the Defence and Internal Affairs Committee visit Military Museum Belgrade
Monday, 14 June 2021
Defence and Internal Affairs Committee Members Visit Military Museum Belgrade
On 14 June 2021, members of the Defence and Internal Affairs Committee visited the Military Museum in Belgrade.
---
On the occasion, the attending were presented the museum's permanent exhibition covering a period of 14 centuries - the struggle for freedom from the settlement of Slavs in the Balkans, the creation of the first South Slavic medieval states, to the last conflicts of the 1990s.
Examining with the most diverse examples of weaponry, military clothing and uniforms, flags, decorations, photographs and works of art, the Committee members gained insight into the history and culture and various civilizational achievements in our area.
Committee Chairman Aleksandar Markovic and deputy member Milica Nikolic, as well as Jelena Zaric Kovacevic, Chairperson of the Committee on Constitutional and Legislative Issues, took part in the visit.
---
---
tuesday, 30 november
11.30 - 51st meeting of the National Assembly Collegium (National Assembly House, 13 Nikola Pasic Square, hall 1)

13.00 - sitting of the Culture and Information Committee (National Assembly House, 13 Nikola Pasic Square, hall 3)

13.00 - Eighth Special Sitting of the National Assembly of the Republic of Serbia, 12th Legislature (National Assembly House, 13 Nikola Pasic Square)

13.30 - the National Assembly Speaker addresses Hanukkah celebration (National Assembly House, 13 Nikola Pasic Square, Small Hall)

13.30 - Hanukkah celebration (National Assembly House, 13 Nikola Pasic Square, Small Hall)