National Assembly of the Republic of Serbia / Activities / Activity details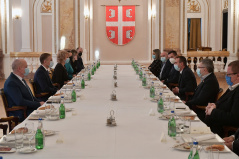 19 November 2020 Working meeting of the Defence and Internal Affairs Committee and Minister of Defence
Thursday, 19 November 2020
Defence and Internal Affairs Committee Has Working Meeting with Minister of Defence
On 19 November 2020, the Defence and Internal Affairs Committee had a working meeting with Deputy Prime Minister and Minister of Defence, Dr Nebojsa Stefanovic, at the Guard House at Topcider.
---
At the beginning of the meeting, the attending Committee members were presented the competencies, structure and status of the professional members of the Serbian Armed Forces.

In the course of the discussion, Minister Stefanovic highlighted the importance of equipping the Serbian Armed Forces with modern combat systems, as well as improving the standards and working conditions of the members of the Serbian Armed Forces. He also informed the Committee members on the current situation in the Ministry of Defence and the Serbian Army, as well as the possibilities for improvement in the coming period.

The members of the Committee had the opportunity to exchange opinions and views with the Minister of Defence on the aspects of the work of the professional members of the Serbian Army, as well as to get acquainted with the planned projects and investments. They said they would continue to advocate for an even stronger and better equipped Army, as well as for the improvement of the material position of its members. In that sense, it is very important to continue the economic growth of Serbia, in order to improve the material position of the members of the Army, and that is not possible without a stable and secure Serbia.

At the end of the meeting, Aleksandar Markovic, the Chairman of the Committee, stressed that he would like to continue with the good practice of cooperation between the Defence and Internal Affairs Committee with the ministries within the Committee's scope to keep the MPs better informed and facilitate the National Assembly's performance of its control role.

The meeting was attended by the following Committee members: Aleksandar Markovic, Committee Chairman, MA Igor Becic, Prof. Dr Zoran Dragisic, Dusko Tarbuk, Srbislav Filipovic, Marijana Krajnovic, Ivan Ribac, Aleksandar Mirkovic, Jelena Mijatovic, Dragan Markovic, Natasa Mihailovic Vacic, as well as deputy members: Dijana Radovic and Justina Pupin Koscal. In addition to the Minister of Defence, the meeting was also attended by the following Ministry representatives: Aleksandar Zivkovic, State Secretary, and Milica Catic, Ministry Secretary.


---
---
monday, 18 january
11.00 - the Head of the PFG with Italy meets with the Italian Ambassador to Serbia (National Assembly House, 13 Nikola Pasic Square, hall 2)

11.00 - National Assembly Speaker Ivica Dacic meets with Polish Ambassador to Serbia (National Assembly House, 13 Nikola Pasic Square, diplomatic salon of Prince Pavle Karadjordjevic)