National Assembly of the Republic of Serbia / Activities / Activity details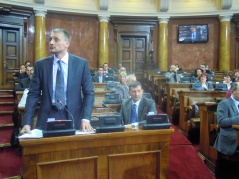 14 March 2013 Day to Respond to Parliamentary Questions on a Current Issue
Thursday, 14 March 2013
Day to Respond to Parliamentary Questions on a Current Issue
The National Assembly Speaker, MA Nebojsa Stefanovic, set Thursday, 14 March 2013, starting at 4 pm, as Day to respond to parliamentary questions regarding the current issue: Food safety in the Republic of Serbia and citizens' health – standards and accountability for their implementation, proposed by the Liberal Democratic Party Parliamentary Group.
---
Rasim Ljajic, Deputy Prime Minister and Minister of Foreign and Internal Trade and Telecommunications, Goran Knezevic, Minister of Agriculture, Forestry and Water Management, Zorana Mihajlovic, Minister of Energy, Development and Environmental Protection, Bratislav Petkovic, Minister of Culture and Information, Slavica Djukic Dejanovic, Minister of Health, Milan Bacevic, Minister of Natural Resources, Mining and Spatial Planning, and Nikola Selakovic, Minister of Justice and Public Administration, responded to the MPs' questions.
MPs Cedomir Jovanovic, Aleksandar Jugovic, Arpad Fremond, Djordje Stojsic, Dusan Petrovic, Petar Petrovic, Zlata Djeric, Vladimir Marinkovic, Ljubica Milosevic, Bojan Djuric, Nikola Jovanovic, Milica Vojic Markovic, Snezana Bogosavljevic Boskovic, Borislav Stefanovic, Veroljub Arsic, Zaharije Trnavcevic, Olgica Batic, Karolj Cizik, Radoslav Komlenovic, Ranka Savic, Dragana Djurkovic, Miletic Mihajlovic, Jovana Mehandzic, Jadranka Joksimovic, Radmila Gerov, Branislav Mitrovic, Donka Banovic, Petar Kuntic and Biljana Ilic Stosic posed the parliamentary questions regarding the current issue.
---
---
tuesday, 7 december
9.00 - sitting of the Committee on Finance, State Budget and Control of Public Spending (National Assembly House, 13 Nikola Pasic Square, hall 3)

9.00 - sitting of the Committee on the Judiciary, Public Administration and Local Self-Government (National Assembly House, 13 Nikola Pasic Square, hall 2)

9.00 - 52nd meeting of the National Assembly Collegium (National Assembly House, 13 Nikola Pasic Square, hall 1)

10.00 - 11th Sitting of the Second Regular Session of the National Assembly of the Republic of Serbia in 2021 (National Assembly House, 13 Nikola Pasic Square)

11.00 - National Assembly Deputy Speaker Stefan Krkobabic meets with a delegation led by the Head of the Georgian Royal House H.R.H. Prince Davit Bagration Muhranbatoni (National Assembly House, 13 Nikola Pasic Square, library)

11.00 - the Head of the National Assembly's standing delegation to NATO PA meets with the Ukrainian Ambassador to Serbia (National Assembly House, 13 Nikola Pasic Square, hall 2)

11.45 - press conference of National Assembly Deputy Speaker Stefan Krkobabic and H.R.H. Prince Davit Bagration Muhranbatoni (National Assembly House, 13 Nikola Pasic Square, Central Hall)

12.30 - sitting of the Foreign Affairs Committee (National Assembly House, 13 Nikola Pasic Square, hall 2)

13.00 - sitting of the Culture and Information Committee (National Assembly House, 13 Nikola Pasic Square, hall 3)

15.00 - National Assembly Speaker Ivica Dacic meets the Ambassador of the Kingdom of Bahrain (National Assembly House, 13 Nikola Pasic Square, diplomatic salon of Prince Pavle Karadjordjevic)