National Assembly of the Republic of Serbia / Activities / Activity details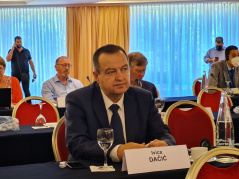 16 May 2022 The Speaker of the National Assembly of the Republic of Serbia Ivica Dacic
Monday, 16 May 2022
Dacic to Visit Greece to Attend Meeting of PACE Committee on Political Affairs and Democracy
The Speaker of the National Assembly of the Republic of Serbia Ivica Dacic will be visiting Greece to take part in the meeting of the PACE Committee on Political Affairs and Democracy, 16-17 May in Chania, Crete.
---
The Committee meeting will be focusing on current political issues and the agenda will include, among other things, the Western Balkans' European perspective and report on Kosovo, which is especially important, especially in light of the membership application so-called Kosovo filed last week.
On the sidelines of the meeting, National Assembly Speaker Ivica Dacic will have bilateral meetings with the President of the Council of Europe Parliamentary Assembly Tiny Kox, head of the Greek Parliament's delegation to PACE and the Committee's rapporteur on Kosovo Dora Bakoyannis, as well as former Greek Prime Minister and current rapporteur for the Western Balkans George Papandreou.
---
---
tuesday, 5 july
No announcements for selected date