National Assembly of the Republic of Serbia / Activities / Activity details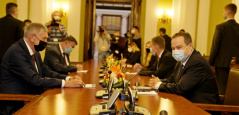 30 November 2020 National Assembly Speaker Ivica Dacic and the Chairman of the House of Representatives of the Parliamentary Assembly of Bosnia and Herzegovina Nebojsa Radmanovic
Monday, 30 November 2020
Dacic and Radmanovic: Meetings of Legislative Institutions of Serbia and Bosnia and Herzegovina to Become Regular Practice
The Speaker of the National Assembly of the Republic of Serbia Ivica Dacic said today that meetings between representatives of the legislative institutions of Serbia and Bosnia and Herzegovina should become regular practice in order to provide constant encouragement to good neighbourly relations.
---
"I suggest to, every year, alternately, have a meeting of the leadership of the National Assembly and the House of Representatives and of course the House of Peoples of Bosnia and Herzegovina. That should become regular practice," said Dacic after his meeting with the Chairman of the House of Representatives of the Parliamentary Assembly of Bosnia and Herzegovina Nebojsa Radmanovic.
Dacic said that this cooperation already is well-developed at the inter-parliamentary level, adding that of the 24 visits realized, 12 had been at the highest and 12 at the entity level.
He reminded the guest of the establishment of a Parliamentary Friendship Group with Bosnia and Herzegovina, headed by the leader of the "Aleksandar Vucic - For Our Children" Parliamentary Group Aleksandar Martinovic.
"It is important to establish cooperation at the level of parliamentary working bodies, especially those in charge of European integration and cooperation with European institutions in the EU accession process", said Dacic.
Radmanovic told reporters that the common path towards the European Union was an important topic at the meeting, stating that Serbia has made significant progress, while Bosnia and Herzegovina is still not a candidate.
"The issue of the acquis communautaire, which we are to integrate into our legislation, is important for both parliaments and the cooperation between Serbia and Bosnia and Herzegovina," he said.
He added that the future is expected to witness new steps forward and that some things have been "concretely agreed upon".
The meeting also touched on some common topics such as the migrant crisis and terrorism, which, although they are issues for the executive branch, are equally important for the parliament as well, Radmanovic opined.
---
Photo gallery
---
---
sunday, 24 january
No announcements for selected date