National Assembly of the Republic of Serbia / Activities / Activity details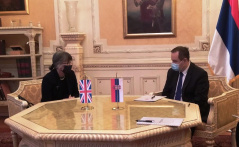 November 27, 2020 National Assembly Speaker Ivica Dacic in talk with UK Ambassador to Serbia Sian MacLeod
Friday, 27 November 2020
Dacic and MacLeod: Exchange of visits at the level of Parliament Speakers would be a strong incentive to strengthen parliamentary cooperation
The Speaker of the National Assembly of the Republic of Serbia Ivica Dacic received the Ambassador of the United Kingdom of Great Britain and Northern Ireland to the Republic of Serbia Sian MacLeod.
---
Ambassador MacLeod congratulated Mr. Dacic on his new appointment and wished him success in the responsible function, expressing hope that the already established good cooperation would continue in his new position, and that the parliamentary cooperation between the UK and Serbia would intensify in the upcoming period.
National Assembly Speaker Ivica Dacic thanked the Ambassador and presented the priorities of the National Assembly's work. He informed the guest on the National Assembly's activities and mode of operation in the difficult conditions caused by the coronavirus. He emphasized his readiness to work on strengthening the role of the National Assembly and improving its work during his mandate. He thanked the UK for the help provided to the National Assembly in the previous period and expressed interest in continuing the cooperation.
The officials agreed that the exchange of visits at the level of Parliament Speakers would be a strong incentive to strengthen parliamentary cooperation, as well as to improve overall bilateral relations. They agreed that bilateral visits should begin immediately after the stabilization of health situation. Both sides expressed satisfaction with the cooperation between the parliamentary friendship groups and an expectation that it will be continued in the new legislature of the National Assembly. They also discussed the continuation of cooperation through projects financed by the Westminster Foundation, which could contribute to the efficiency of the National Assembly.
---
Photo gallery
---
---