National Assembly of the Republic of Serbia / Activities / Activity details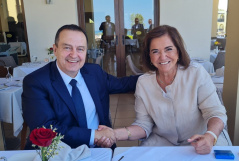 16 May 2022 The Speaker of the National Assembly of the Republic of Serbia with the head of the Greek Parliament's delegation to the Parliamentary Assembly of the Council of Europe
Monday, 16 May 2022
Dacic and Head of Greek Delegation to PACE Dora Bakoyannis discuss Kosovo-Metohija
The Speaker of the National Assembly of the Republic of Serbia Ivica Dacic met today with the Head of the Greek Parliament's delegation to the PACE Dora Bakoyannis on the sidelines of the meeting of the PACE Committee on Political Affairs and Democracy in Crete. As a PACE MP, Dora Bakoyannis was appointed by the Committee as the rapporteur tasked with drafting a report on the situation in Kosovo.
---
In the course of the conversation, the Speaker of the National Assembly of the Republic of Serbia Ivica Dacic highlighted the importance of this issue concerning the territorial integrity and sovereignty of the Republic of Serbia. In light of so-called Kosovo's recent application for admission into the Council of Europe, the Assembly Speaker presented our position and arguments that confirm that granting so-called Kosovo admission was in conflict with international law, UN Security Council Resolution and the values this organisation represents.
The Assembly Speaker said that it was of great importance for Serbia that the future report address all issues in the domain of the Parliamentary Assembly of the Council of Europe (the state of democracy and institutions in Kosovo-Metohija, rule of law and human rights), while maintaining a status-neutral approach.
He especially emphasised the expectation that the future report analyse the position of the Serbian population in Kosovo-Metohija, particularly in light of the constant denial of their basic human rights. The Assembly Speaker Dacic reminded that the Serbian citizens in Kosovo-Metohija were not able to freely express their will and participate in the recent referendum, parliamentary and presidential elections.
Dacic underlined once again that the Republic of Serbia is firmly committed to peace and stability, as well as reaching a compromise on the Kosovo-Metohija issue through dialogue.
He expressed regret that the dialogue with Pristina is almost non-existent, because the other side obviously does not want a dialogue, as evidenced by their unilateral moves.
---
---
monday, 4 july
No announcements for selected date