National Assembly of the Republic of Serbia / Activities / Activity details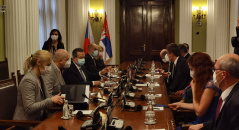 30 March 2021 National Assembly Speaker Ivica Dacic in meeting with the Minister of Foreign Affairs of the Czech Republic Tomas Petricek
Tuesday, 30 March 2021
Dacic and Czech Foreign Minister: Very Good Bilateral Relations between Serbia and Czech Republic
The Speaker of the National Assembly of the Republic of Serbia Ivica Dacic met today with the Minister of Foreign Affairs of the Czech Republic Tomas Petricek.
---
National Assembly Speaker Ivica Dacic declared the bilateral relations between Serbia and the Czech Republic very good, as evidenced by the intensive political dialogue and regular exchange of high-level visits. He expressed readiness to continue working on the improvement of bilateral cooperation and strengthening ties between the two parliaments in his new post.
Minister Petricek pointed out the excellent cooperation they enjoyed as foreign ministers, agreeing that the bilateral relations between the two countries are at a high level and have always been close, friendly and without any outstanding issues. In addition to the political dialogue, he said, the two countries also enjoy good economic cooperation and that his visit today, together with Czech businessmen, is an indicator of the readiness to work on strengthening ties even further. He reiterated the Czech Republic's robust support of Serbia's European integration process.
At his guest's interest, Ivica Dacic briefed the Minister on the activities and priorities of the National Assembly's work and its role in the reform processes. He stressed his readiness to work on strengthening the role of the National Assembly and improving its work during his mandate, underlining that the National Assembly will strive to contribute as best it can with its work and activities to the Republic of Serbia's European integration process.
The officials discussed the possibilities for furthering parliamentary cooperation and agreed to intensify contacts and visits between parliamentary friendship groups and committees, as well as to organise visits at the level of parliamentary speakers soon.
---
Photo gallery
---
---
monday, 23 may
No announcements for selected date