National Assembly of the Republic of Serbia / Activities / Activity details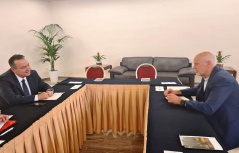 17 May 2022 National Assembly Speaker Ivica Dacic and Former Greek Prime Minister George Papandreou
Tuesday, 17 May 2022
Dacic Speaks to Former Greek Prime Minister George Papandreou
Today, the Speaker of the National Assembly of the Republic of Serbia Ivica Dacic met with Former Greek Prime Minister George Papandreou on the sidelines of the meeting of the PACE Committee on Political Affairs and Democracy on Crete. George Papandreou is the Committee's rapporteur who, in the course of the meeting presented the draft report on the Western Balkans' European perspective.
---
Parliament Speaker Dacic expressed satisfaction that the PACE, through the work of the Committee on Political Affairs and Democracy, is considering the European perspective of the Western Balkans and seeking to find mechanisms and ways to support a clear perspective for the region, as well as identify areas in which the Council of Europe can help the region on its European path. The National Assembly Speaker emphasised once again that membership in the European Union is Serbia's chief foreign policy priority and that, after the elections and formation of a new government, the country would be even more committed to the European path through internal reform processes.
George Papandreou said that 19 years have passed since the Thessaloniki Summit when the door was opened for the Western Balkans and that the progress achieved in the region's European integration is not enough and does not correspond to the level of the desire of most EU member states.
Papandreou expressed hope that his report would help speed up the process and that EU member states' enthusiasm for new members would increase, as well as that the current crisis in the east would prompt the need to consolidate friendly forces on the European continent.
---
Photo gallery
---
---
tuesday, 5 july
No announcements for selected date