National Assembly of the Republic of Serbia / Activities / Activity details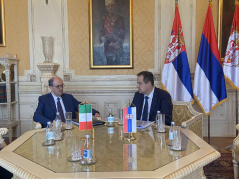 13 May 2022 The National Assembly Speaker in meeting with the Italian Ambassador to Serbia
Friday, 13 May 2022
Dacic Receives Italian Ambassador in Farewell Visit
The Speaker of the National Assembly of the Republic of Serbia Ivica Dacic received Italian Ambassador Carlo Lo Cascio in farewell visit.
---
The Assembly Speaker thanked the Ambassador for his engagement and cooperation, stressing that the bilateral relations between the two countries are well-developed, dynamic and without outstanding issues, and that Italy continuously and unconditionally supports Serbia's progress in the European integration process. The National Assembly Speaker also said that the contacts had been significantly improved since the signing of the Joint Declaration on strategic partnership in 2009, especially in the economic sense.
Italian Ambassador Carlo Lo Cascio opined that the relations between Italy and Serbia are excellent, noting that the Western Balkans is an area of special significance for the EU. He said that Italy continues to support Serbia's European integration process and the continuation of dialogue between Belgrade and Pristina. The Ambassador also hopes that the existing efficient cooperation in great many areas and different levels of government would continue after the constitution of the next parliamentary legislature and formation of other state bodies.
---
Photo gallery
---
---
tuesday, 5 july
No announcements for selected date