National Assembly of the Republic of Serbia / Activities / Activity details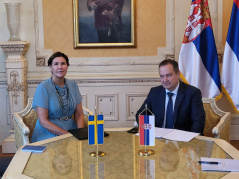 24 May 2022 National Assembly Speaker Ivica Dacic in meeting with Swedish Ambassador to Serbia Annika Ben David
Tuesday, 24 May 2022
Dacic Meets with Swedish Ambassador to Serbia Annika Ben David
The Speaker of the National Assembly of the Republic of Serbia Ivica Dacic met today with the Ambassador of the Kingdom of Sweden Annika Ben David.
---
National Assembly Speaker Ivica Dacic opined that the bilateral relations are very good, above all friendly, honest and open, as evidenced by the reciprocal visits of the two countries' top officials. He mentioned the successful visit of the Speaker of the Swedish Riksdag Andreas Norlen to Serbia in August of last year, regretting that his duties in the country have made it impossible for him to reciprocate. He also added that the numerous Serbian diaspora in Sweden contributes to the mutual understanding and closeness between the two countries.
Assembly Speaker Dacic opined that cooperation at the highest level could further improvement through an exchange of visits and continued cooperation between parliamentary committees. He also expressed satisfaction with the large number of Swedish investments into Serbia, adding that Serbia is interested in expanding economic cooperation.
Dacic went on to emphasise that EU membership is Serbia's strategic goal, adding that Sweden's experience and support on that path would be invaluable to us. He also said that the National Assembly contributes to these efforts by passing relevant laws and harmonising the national legislation with the acquis communautaire.
He then spoke about sustainable development goals, an area in which Sweden is among the leading countries in Europe, expressing interest in Sweden's helping Serbia successfully achieve these goals by exchanging experiences.
Ambassador Ben David agreed with the Speaker, saying that the fact that the Embassy of the Kingdom of Sweden in Belgrade is actually their second largest embassy in Europe another testament to the good cooperation between the two countries.
She also agreed that strengthening political dialogue and various forms of cooperation should be a priority for the two countries, with special emphasis on economic relations, given the large number of Swedish companies already operating here, as well the number of businessmen interested in investing into Serbia.
Ambassador Ben David pointed out that Sweden would continue to support Serbia's reforms and that there is also room for cooperation at the level of parliamentary meetings, which he expects would be realised after the constitution of the new Assembly legislature and formation of a Friendship Group with Sweden.
---
Photo gallery
---
---
monday, 4 july
No announcements for selected date