National Assembly of the Republic of Serbia / Activities / Activity details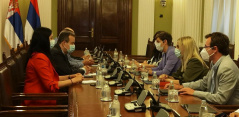 1 July 2021 Participants of the meeting
Thursday, 1 July 2021
Dacic Meets with Brnabic, Popovic and Representatives of High Judicial Council and State Prosecutorial Council
Serbian Prime Minister Ana Brnabic, National Assembly Speaker Ivica Dacic, Minister of Justice Maja Popovic, Republic Public Prosecutor and President of the State Prosecutorial Council Zagorka Dolovac and the President of the Supreme Court of Cassation and High Judicial Council Jasmina Vasovic met today to discuss coordinating work on the activities contained in Chapter 23 Action Plan, within the accession negotiations between the Republic of Serbia and the European Union, as regards refraining from commenting on court decisions by civil servants and politicians.
---
The participants of the meeting stressed that raising awareness about refraining from commenting on court decisions, especially in the media, is very important for strengthening full respect for court decisions.
In 2016, the Serbian Government adopted the Code of Conduct for members of the Government outlining the limits of the permissibility in terms of commenting on court decisions and procedures. In 2017, at the proposal of the Ministry of the Interior, the Government also adopted the Code of Police Ethics in accordance with the Law on Police. This Code contains an extremely important provision concerning the Protection of Official Data according to which police officers are not to disclose or use illicit data obtained in the service which may jeopardise court proceedings.
The officials agreed that, by introducing new activities into the Action Plan for Chapter 23 - Judiciary and fundamental rights which refer to having quarterly meetings between the Prime Minister, National Assembly Speaker, Minister of Justice, President of the High Judicial Council and the President of the State Prosecutorial Council, the Republic of Serbia has created conditions for a significant improvement of the situation in this area.
---
---
monday, 15 august
11.00 - press conference of MP MA Ivan Kostic (National Assembly House, 13 Nikola Pasic Square, Central Hall)