National Assembly of the Republic of Serbia / Activities / Activity details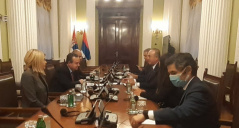 11 October 2021 National Assembly Speaker Ivica Dacic in meeting with the Minister of Foreign Affairs of the Republic of Turkey Mevlüt Çavuşoğlu
Monday, 11 October 2021
Dacic Meets with Çavuşoğlu
The Speaker of the National Assembly of the Republic of Serbia Ivica Dacic met today with the Minister of Foreign Affairs of the Republic of Turkey Mevlüt Çavuşoğlu, who is taking part in the meeting of Non-Aligned Countries marking the 60th anniversary of the organisation's first Summit.
---
National Assembly Speaker Ivica Dacic said he was very pleased to be meeting again with his former colleague and good friend. He said that bilateral relations between Serbia and Turkey are at a very high level, as confirmed by the dynamics of high-level visits. His recent visit to Ankara, at the invitation of the Speaker of the Turkish Grand National Assembly Mustafa Şentop, and the meetings he had there additionally strengthened the ties between the two parliaments as well as overall bilateral relations, Dacic said.
Minister Çavuşoğlu said he was happy to be taking part in the meeting of the Non-Aligned Movement and congratulated Serbia on its good organisation. He agreed that the intense dynamics of the high-level visits confirms that relations between Serbia and Turkey are at an exceptional level. He once again thanked the National Assembly Speaker for his contribution to the improvement of relations between the two countries in all of his previous posts, expressing satisfaction that the projects the two of them started together as ministers are being realised today.
---
---
friday, 1 july
11.00 - the National Assembly Speaker addresses the conference on the Position of Serbia's in the Euro-Atlantic Community (National Assembly Building, 14 Kralja Milana Street, Grand Hall)