National Assembly of the Republic of Serbia / Activities / Activity details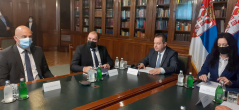 29 September 2021 Dacic has a meeting with a delegation of the Venice Commission
Wednesday, 29 September 2021
Dacic Has Meeting with Venice Commission Delegation
The Speaker of the National Assembly of the Republic of Serbia Ivica Dacic had an on-line meeting today with a delegation of the Venice Commission headed by Commission President Gianni Buquicchio.
---
The meeting revolved around the ongoing process of constitutional reforms in Serbia. National Assembly Speaker Ivica Dacic expressed regret that the meeting had to be held online, not in person as was previously planned, due to the complex epidemiological situation. He thanked all members and experts of the Commission who had shown to be deeply interested in the success of the process of amending the Constitution of the Republic of Serbia, stressing that today's meetings are a very important part of the overall procedure of passing constitutional amendments, which has already gone through several important phases. He restated that the Republic of Serbia has tried to ensure the transparency and openness of the process, primarily by organising numerous public hearings where representatives of the professional public presented their views, ideas and proposals.

After these public hearings, the Committee on Constitutional and Legislative Issues made certain changes to the text of the draft Law amending and modifying the Constitution, based on the material collected during the public hearings, which were sent to the Venice Commission.

National Assembly Speaker Ivica Dacic said he hoped that the Venice Commission would consider the submitted draft Law and amendments at its coming 128th plenary session in Venice and give its official opinion on them.

The President of the Venice Commission Gianni Buquicchio indicated that the rapporteurs' opinion at the coming session of the Commission would be very favourable for Serbia and that he was convinced it would be adopted as such.


---
---
tuesday, 30 november
11.30 - 51st meeting of the National Assembly Collegium (National Assembly House, 13 Nikola Pasic Square, hall 1)

13.00 - sitting of the Culture and Information Committee (National Assembly House, 13 Nikola Pasic Square, hall 3)

13.00 - Eighth Special Sitting of the National Assembly of the Republic of Serbia, 12th Legislature (National Assembly House, 13 Nikola Pasic Square)

13.30 - the National Assembly Speaker addresses Hanukkah celebration (National Assembly House, 13 Nikola Pasic Square, Small Hall)

13.30 - Hanukkah celebration (National Assembly House, 13 Nikola Pasic Square, Small Hall)