National Assembly of the Republic of Serbia / Activities / Activity details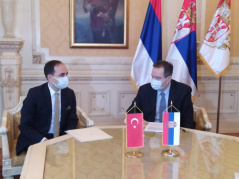 5 March 2021 The National Assembly Speaker and the Turkish Ambassador to Serbia
Friday, 5 March 2021
Dacic Asks Bilgiç to Convey His Condolences Army Helicopter Crash in Turkey and Death of 11 Crew Members
The Speaker of the National Assembly of the Republic of Serbia Ivica Dacic received Turkish Ambassador to Serbia Tanju Bilgiç in farewell visit today.
---
National Assembly Speaker Ivica Dacic stressed that the bilateral relations between Serbia and Turkey are at a high level and that he would try to further improve in his role as National Assembly Speaker by strengthening parliamentary cooperation.
It was mutually assessed that the political dialogue has been very intense in recent years, as can also be said for economic cooperation, bearing in mind that economic exchange has almost doubled in the last four years. The officials also expressed readiness to continue cooperation in all areas of mutual interest.
They also discussed the possibilities of strengthening parliamentary cooperation and agreed that exchanges of visits between the heads of parliament should be organized as soon as conditions allow.
Ambassador Bilgiç was grateful for the exceptional cooperation he achieved during his mandate with Ivica Dacic during his tenure as head of diplomacy, as well as with the Ministry of Foreign Affairs and with all the other institutions in Serbia.
The National Assembly Speaker asked Ambassador Bilgiç to convey his condolences on crash of the army helicopter in Turkey and the death of its 11 crew members.
The National Assembly Speaker thanked Ambassador Bilgiç for his tremendously active engagement during his mandate in Belgrade and wished him success in his further career.
---
Photo gallery
---
---
tuesday, 18 january
14.00 - the National Assembly Speaker meets with OSCE Parliamentary Assembly Secretary General (National Assembly House, 13 Nikola Pasic Square, diplomatic salon of Prince Pavle)