National Assembly of the Republic of Serbia / Activities / Activity details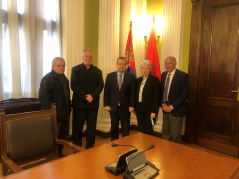 1 April 2021. National Assembly Speaker Ivica Dacic with the delegation of the Association of Youth Labour Action Participants and Volunteers of Serbia
Thursday, 1 April 2021
Dacic: Youth Labour Actions are about Work, Friendship and Love
The Speaker of the National Assembly of the Republic of Serbia Ivica Dacic received a delegation of the Association of Youth Labour Action Participants and Volunteers of Serbia on the occasion of 1 April - Youth Labour Action Day.
---
Dacic said that youth labour actions were created during the National Liberation War and that they were especially popular after the end of the World War II as a way to rebuild and develop the economy, infrastructure, scientific, sports, cultural and entertainment facilities in Yugoslavia.
The Head of the Association Assembly Sreten Jovanovic thanked the National Assembly Speaker for the reception and took the opportunity to present him with a symbolic photograph of the memorial plaque in New Belgrade, as well as to present the elements for the drafting of the Law on Voluntary Labour Actions.
The host and guests agreed that the labour actions are definitively the best of SFRY's heritage and that there is almost no place in any our former republics where no labour action was organised or a youth or pioneer brigade formed that did not participate in any of the actions, adding that the heritage of that time is precious because, as they said, the labour actions built the country, as well as friendships and love.
National Assembly Speaker Ivica Dacic thanked the former youths and participants of the labour actions for their suggestions on the draft law to-be, stressing that he has always urged to contribute to keeping the memory of that period alive because the youth of the time built both themselves and, by working together, learned about the multiculturalism of all the inhabitants of the common homeland they shared.
---
Photo gallery
---
---
sunday, 29 may
No announcements for selected date