National Assembly of the Republic of Serbia / Activities / Activity details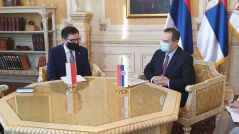 18 January 2021 The Speaker of the National Assembly of the Republic of Serbia receives the Ambassador of the Republic of Poland to the Republic of Serbia H.E. Rafal Perl
Monday, 18 January 2021
Dacic: Pandemic Forced Us to Understand the Importance of Mutual Cooperation
The Speaker of the National Assembly of the Republic of Serbia Ivica Dacic received today the Ambassador of the Republic of Poland to the Republic of Serbia H.E. Rafal Perl.
---
As this was their first meeting, the Polish Ambassador congratulated Ivica Dacic on his election for National Assembly Speaker and wished him success in the performance of this responsible function.
National Assembly Speaker Ivica Dacic, thanked the Ambassador saying that he would personally make sure the good cooperation with the Republic of Poland continues to improve at all levels, especially in the field of parliamentary diplomacy. He informed H.E. Rafal Perl that the Assembly had recently set up a Parliamentary Friendship Group with Poland and expressed a desire to continue to further strengthen cooperation, which the activities of the parliamentary friendship groups would undoubtedly contribute to, as would an exchange of bilateral visits at the level of heads and members of parliament, once the epidemiological situation allows it.
The Polish Ambassador pointed out that the relations between the two countries are traditionally friendly, but that there is room for their further improvement. He reminded his host that Poland tried to provide assistance to other countries, such as Serbia and countries in the region, in the most difficult moments of the pandemic.
National Assembly Speaker Ivica Dacic said that the pandemic forced us to understand the importance of mutual cooperation. He expressed satisfaction with the cooperation between the two countries within the contacts of the Visegrad Group with the Western Balkans.
The officials also discussed the possibilities for closer cooperation between the parliamentary delegations in international organizations.
---
Photo gallery
---
---