National Assembly of the Republic of Serbia / Activities / Activity details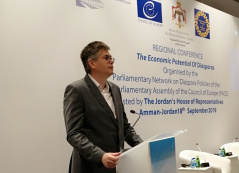 18 September 2019 Cotric at the regional conference on "The economic potential of the diasporas"
Thursday, 19 September 2019
Cotric in Jordan: Serbia Among World's Best in Economic Growth
Serbia receives over three billion euros in money orders from its diaspora from about a hundred countries in the world, per annum.
---
Money orders make up 15% of Serbia's GDP, making it fifth in the world by the amount sent per capita", said Aleksandar Cotric, MP and member of the National Assembly's Committee on the Diaspora and Serbs in the Region, at the regional conference entitled "The economic potential of the diasporas" in the capital of Jordan, Amman. Cotric said that most of the money comes from Germany, followed by Switzerland, as well as France, Austria, Turkey and Croatia.
Speaking at the conference co-organized by the Parliamentary Assembly of the Council of Europe and Parliament of Jordan, Cotric said that one in four Serbian citizens have a family member or close relative abroad, while 11% regularly or occasionally receive money orders, meaning that almost 800 000 people have additional financial help.
MP Cotric said that thanks to the efforts of the Serbian President and Government unemployment was halved in the last seven years and the country's inflation reached a record low putting it, according to Financial Times research, first by the number of direct foreign investment and among the best in Europe according to its economic growth.
"All of this led to an increase in investments into Serbian economy by our businesspeople from abroad, making Serbia a positive example for the region and Europe", said MP Cotric at the conference attended by representatives of international organizations and the governments and parliaments of over 30 countries in Europe, Asia and Africa.


---
---
monday, 23 may
No announcements for selected date