National Assembly of the Republic of Serbia / Activities / Activity details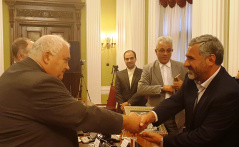 20 September 2019 The Chairman of the Committee on Constitutional and Legislative Issues with the delegation of the Islamic Consultative Assembly of the Islamic Republic of Iran
Friday, 20 September 2019
Constitutional and Legislative Issues Committee Chairman Talks to Iranian Parliamentary Delegation
The Chairman of the Committee on Constitutional and Legislative Issues Djordje Komlenski met today with a delegation of the Islamic Consultative Assembly of the Islamic Republic of Iran to discuss the long-standing diplomatic relationship between the two countries, deepening cooperation, legislative framework, the procedure for the adoption and amendment of the Constitution and independent authorities.
---
Komlenski explained the dynamics of the legislative change going on in Serbia at the moment, how laws are submitted and adopted. The Committee Chairman said that the power in Serbia is divided into three branches, legislative, executive and judiciary, which are independent and equal. Through a system of checks and balances the three branches also wield the rights of mutual control and influence. He also mentioned that a proposal to amend the Constitution concerning the position of the judiciary is currently in Assembly procedure.
The head of the Iranian delegation Gholamreza Kateb, Chairman of the Committee on Formulation of the Rules of Procedure, spoke about the similarities and differences of the two countries' legislative system, adding that, in view of their similar position on the independence and autonomy of their respective states, Serbia and Iran should strengthen their cooperation. Abbas Papi Zadeh Balangan, Deputy Chairman of the Committee, had questions about the work of the Assembly plenum, its transparency and voting on legislation.

The officials agreed that frequent exchanges of visits would help strengthen interparliamentary relations at all levels and mutual support in international organizations would be as plentiful as before.


---
---
friday, 9 december
No announcements for selected date