National Assembly of the Republic of Serbia / Activities / Activity details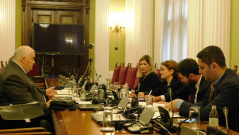 15 May 2019 The Chairman of the Committee on Constitutional and Legislative Issues in meeting with the representatives of the Office for Democratic Institutions and Human Rights of the Organization for Security and Co-operation in Europe (OSCE/ODIHR)
Wednesday, 15 May 2019
Constitutional and Legislative Issues Committee Chairman Meets with Representatives of Office for Democratic Institutions and Human Rights (OSCE/ODIHR)
The Chairman of the Committee on Constitutional and Legislative Issues Djordje Komlenski met today at the National Assembly with Lusine Badalyan and Raul Muresan, representatives of the Office for Democratic Institutions and Human Rights of the Organization for Security and Co-operation in Europe (OSCE/ODIHR), to discuss the next steps of project "Support for Elections in the Western Balkans" conducted by the organization.
---
The key areas covered by the project, follow-up of ODIHR's electoral recommendations in the Western Balkans, are election management, voter registration and the conduct of the media during election campaigns.
Committee Chairman Djordje Komlenski said that the electoral roll update methodology had been significantly advanced by the introduction of electronic data processing, a move praised by the ODIHR representatives.
The officials also discussed which relevant institutions and organizations should be included to ensure a comprehensive reform of the election system and agreed that inclusivity is key to making sure all the relevant factors are duly included, which would also leave less room for criticism.


---
---
wednesday, 8 july
No announcements for selected date